April is once again the opera month of the Ontario cultural calendar with eight fully-staged operas in Southern Ontario plus at least two operas in concert on offer. One of the fully-staged productions comes from a brand new company, Wish Opera, that seeks to further the work of Canadian artists in its productions.
The month begins with the final performance, outside our listings coverage area, on April 2, of Donizetti's Lucia di Lammermoor by Opera Lyra Ottawa, at the National Arts Centre. It stars Lyubov Petrova as Lucia, Marc Hervieux as Edgardo and Gregory Dahl as Enrico. See www.operalyra.ca.
The month continues with the peripatetic Opera Kitchener presenting Rossini's The Barber of Seville in Guelph on April 7,
in Waterloo on April 9, and in Mississauga on April 15. Visit www.operakitchener.com for more information. Remaining on the periphery of the Big Smoke, Opera Hamilton presents the favourite double bill of Cavalleria Rusticana and I Pagliacci on April 21 and 23. Many familiar singers – Joni Henson, Sally Dibblee, Wendy Hatala-Foley and Gregory Dahl – appear along with Richard Troxall as Turiddu and Jeffrey Springer as Canio. See operahamilton.ca
for more.
The season in Toronto proper starts with performances of Rudolf Friml's Rose Marie on April 15 and 16 by Wish Opera, about which there is more below. Opera Atelier concludes its 2010-11 season with North America's first-ever period production of Mozart's La Clemenza di Tito running April 22 to May 1, and reuniting many of the cast members that made OA's Idomeneo so electrifying: Measha Brueggergosman as Vitellia, Michael Maniaci as Sesto, Krešimir Špicer as Tito and Curtis Sullivan as Publio. They are joined by Mireille Asselin as Servilia and Mireille Lebel as Annio. David Fallis conducts the Tafelmusik Orchestra. See www.operaatelier.com.
The Canadian Opera Company begins its spring season with Rossini's version of the Cinderella story, La Cenerentola, April 23 to May 25. The COC last staged this work in 1996. This production, co-produced with Houston Grand Opera, Welsh National Opera and two European companies, is directed by Joan Font and conducted by Leonardo Vordoni. Elizabeth DeShong in the title role is joined by Lawrence Brownlee, Brett Polegato and Donato DiStefano. The Rossini runs in repertory with Richard Strauss's Ariadne auf Naxos, April 30 to May 29. The COC last staged this work in 1995. This production from Welsh National Opera is directed by Neil Armfield and conducted by the great Sir Andrew Davis. Richard Margison sings The Tenor and Bacchus, Adrianne Pieczonka is The Prima Donna and Ariadne and Jane Archibald scales the coloratura heights as Zerbinetta. For more details see www.coc.ca.
The final opening is Toronto Operetta Theatre's production of the Gilbert and Sullivan classic, The Pirates of Penzance, from April 26 to May 1. Ryan Harper and Jessica Cheung will be Frederic and Mabel while David Ludwig and Jean Stilwell will sing the Pirate King and Ruth, his trusty maid of all work. Robert Cooper will conduct and Guillermo Silva-Marin will direct.
As for operas in concert, Opera by Request will present Verdi's La Traviata on April 6 in St. Catharines, April 8 in Toronto and April 11 in London. OBR's next presentation is Britten's The Turn of the Screw on April 16. See www.operabyrequest.ca.
On April 28, the COC Ensemble Studio offers a triple bill for free at noon at the Richard Bradshaw Auditorium. On the program are Menotti's The Telephone, Samuel Barber's A Hand of Bridge and a new work by Ana Sokolovic, composer of Queen of Puddings' The Midnight Court.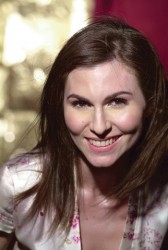 As mentioned at the outset, entering the lists this month with Rudolf Friml's Rose Marie is the brand new company, Wish Opera, founded by soprano Tonia Cianciulli. Last March, Wish Opera made its debut with concerts of opera arias at the Sandra Faire and Ivan Fecan Theatre at York University. A production of Don Giovanni announced for June that year never took place. Cianciulli loved the York University venue but realized that to be successful her company would have to find a more accessible venue, closer to dining options before and after the show. Luckily, she came across the John Bassett Theatre located in the Metro Toronto Convention Centre. The little-known venue is "a real gem" in Cianciulli's words. Self-contained, with its own entrance onto Front Street, it has 1330 seats, an orchestra pit and adjacent rooms for receptions.
Cianciulli knows she has her work cut out for her in finding a niche in Toronto's opera scene and creating a following, but she feels "Wish Opera has something different to offer that will appeal not just to opera lovers, but people in the fashion industry, the design industry, art, photography – we'll have something for everyone." Wish Opera "seeks to promote and nurture and gain awareness for Canadian talent in all mediums."
For Rose Marie, Cianciulli has assembled a wide-ranging group of artists and designers including Charles Pachter and aboriginal artists Maynard Jonny Jr. and Bernice Gordon, whose artworks projected on stage will provide backdrops for the action. Gordon is also contributing a hand-carved totem pole and serves as an advisor in revising the 1924 book by Otto Harbach and Oscar Hammerstein II to make it more sensitive to aboriginal people. Finally, rather than calling Malabar to rent costumes, Cianciulli wants to make audiences aware of current Canadian designers. Thus, the show will feature fashions created by young Quebec designers Denis Gagnon and Marie Saint Pierre along with Girl Friday, Cabaret, Breeyn McCarney and Natasha Lazarovic. The furnishings and chandeliers will also be provided by Canadian companies.
Cianciulli says the idea of Rose Marie as Wish Opera's first fully-staged opera came from conductor Kerry Stratton, who loves the music. Before he emigrated to the U.S., Friml was a pupil of Antonin Dvořák in Prague. The operetta, set in the Canadian Rockies about the love between a French Canadian girl and an English Canadian miner, was a great hit in New York and London. Especially in the famous 1936 film version starring Nelson Eddy and Jeanette MacDonald, it became the archetypal image of Canada for many non-Canadians. There has likely not been a professional staging of the work since a production at the Shaw Festival in 1981. The Wish Opera production will be directed by Lesley Ballantyne with French Canadian mezzo Maude Brunet in the title role and tenor Todd Delaney as her lover. The cast also includes singers Olivier Laquerre, Michael York, Deborah Overes, Sarah Christina Steinert, Anne Marie Ramos, Dan Mitton and actor Sundance Crowe. As part of its community outreach, Wish Opera sponsors the attendance of children to special performances, donates a portion of all ticket revenue to the Hospital for Sick Children and sends artists to perform at Sick Kids' in-house theatre. For tickets and more information visit www.wishopera.ca or call 1-877-700-3130. Though April may already be crowded with opera, Cianciulli knows that there are still not enough opportunities for Canadian singers at home. If Wish Opera can provide those opportunities and make Canadians more aware of all the artists in their midst, it will have performed an invaluable service. Its next project is Gounod's Roméo et Juliette on October 28 and 29 this year. We wish them all the best. n
Christopher Hoile is a Toronto-based writer on opera and theatre. He can be contacted at opera@thewholenote.com.