It's been a busy summer for devotees of Broadway-style musicals in the Toronto area, with professional productions of Miss Saigon and South Pacific adding to the just-closed hit Jersey Boys, and with Wicked just around the corner. If your wallet feels significantly lighter, however, then relief is at hand as a new season of community musical theatre in the GTA kicks off this month. Ticket prices are significantly lower, usually in the $20 to $25 range, but the performing standard is often very high.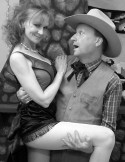 There's the usual mixture of perennial favourites and contemporary shows, and the usual mixture of presentation styles, all of which reflect the variety in the community theatre world: the different personnel of the various groups and their musical tastes; the perceived audience market; the quite different performing spaces; and the varying musical resources they choose to use. "Something for everybody," as the cliché goes. Even so, you can't help wondering if there should be a bit more imagination – or possibly a bit more communication – in the programming: there are three instances of the same show being staged by two different companies, and in the case of Oliver!, the two productions will be running at exactly the same time.
Most groups choose to do only one or two shows a year, which makes for a very full schedule in November and in the spring. Surprisingly, I know of only one production in each of September, October and December. Two of those belong to the Civic Light Opera Company, the only group to present four shows a year, and whose schedule – rather like the hockey season – stretches from early September to the beginning of June (www.civiclightoperacompany.com).
It does mean, however, that they mostly avoid date conflicts with the other groups. Their first show is Paint Your Wagon, another of those shows with a gorgeous Fritz Loewe score and a problematic book by Alan Jay Lerner, which artistic director Joe Cascone will doubtless address. It runs September 8 to 25 at Fairview Library Theatre.
October sees the first of five single productions by five different groups at the Meadowvale Theatre in Mississauga, combined under the heading the Encore Series, and with attractively-priced subscriptions to all five shows (www.encoreseries.ca). Music Theatre Mississauga stages Shout! The Mod Musical, a look at the British female singers and fashions of the 1960s. It runs October 22 to 30.
A busy November starts with Scarborough Music Theatre's Annie, the first of two productions of the show this season, and Curtain Call Players' Bob Fosse review Steam Heat. Annie, always popular with audiences (but, trust me, not with the musicians!) runs November 4 to 20 (www.theatrescarborough.com/SMT); and Steam Heat goes from November 4 to 13 (www.curtaincallplayers.com).
Rent has proved to be particularly popular with community groups since the performing rights became available, and it's clearly a great way to pull young performers into the theatre. Brampton Musical Theatre's production of the show runs at the Rose Theatre for just four days, November 11 to 14 (www.bramptonmusicaltheatre.com).
The middle of November sees the two concurrent productions of Oliver!: one a short run by Steppin' Out Theatrical Productions in Richmond Hill from November 18 to 21 (www.steppinout.ca); and the other a three-week run by Etobicoke Musical Productions from November 19 to December 4 (www.e-m-p.net).
Clarkson Music Theatre presents the second show in the Encore Series at Meadowvale Theatre, and the first of the season's Gilbert & Sullivan productions, when they stage The Gondoliers from November 19 to 27. Civic Light Opera is the only group to try to take advantage of the holiday season in December, with the third – and revised – production of their original musical, The Wizard of Oz. Do not expect the movie! Show dates are December 1 to 19.
The new year gets off to a fairly quiet start, with only Theatre Unlimited's Cabaret in the Encore Series from January 21 to 29 – before St. Anne's Music and Drama Society hits the boards at the end of the month with their double G&S bill of H.M.S. Pinafore and The Zoo. Show dates are January 28-30 and February 3 to 6 (www.stannes.on.ca).
Three contemporary shows can be seen in February: Scarborough Music Theatre's second production of the season is The Full Monty, from February 3 to 19, (should be interesting!) and Meadowvale Music Theatre stages Urinetown as the fourth show in the Encore Series, February 18 to 26. Urinetown is another show that is proving to be extremely popular with community groups: you will also be able to catch it later in the spring when EMP mount their production at Burnhamthorpe Collegiate. Civic Light Opera's production of The Big Bang, a two-man show about a backers' audition for an improbably ambitious new musical, runs February 9 to 26, and the month also sees the latest in North Toronto Players' string of imaginatively updated G&S operettas: this time it's The Mikado at the Vaughan Playhouse (www.northtorontoplayers.com).
The Encore Series wraps up with City Centre's Peter Pan from March 25 to April 2. Otherwise, March looks like the month for Stephen Sondheim fans, with productions of Sweeney Todd by Curtain Call Players from March 24 to April 2, and A Little Night Music by Steppin' Out from March 24 to 26. Interestingly, there is a line of thought in musical theatre that Sondheim shows are not necessarily a great choice for community groups: for a start, they're quite complex and difficult. But feelings about Sondheim seem to be polarized – you either like him or you don't. If you do, you've probably already seen all his shows several times; if you don't, then you probably won't be going.
April sees the second Annie production, this time by Brampton Musical Theatre from April 6 to 8, and Scarborough Music Theatre ends its schedule with Fiddler on the Roof from April 28 to May 14. Civic Light Opera rounds out the season with Cole Porter's Anything Goes from May 18 to June 4.
Quality musical theatre at quality prices – go see for yourself!
Terry Robbins is a musician and musical theatre enthusiast. He can be contacted at: musicaltheatre@thewholenote.com.