The Scarborough Choral Society has been around for well over fifty years, with an unbroken run of annual shows stretching back to their G&S days in 1955. They are the only Toronto musical theatre group to limit their stage activity to a single production each year, but their annual Sounds of Christmas concert at Markham Theatre, first produced in 1986, has become so successful that the society now essentially runs two separate activities.
In recognition of this, the stage musical section was given the name Onstage Productions two years ago. Ron Turner, who was President of the Society from 2002 to 2006, explains that the new name is intended simply to emphasize that the group presents fully staged show productions, and not just concert versions as the name "Choral Society" apparently suggested. Members, he says, became tired of being asked such questions as "Are you going to have any scenery?"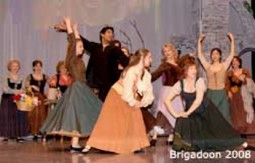 When Onstage Productions presents Crazy For You at Bayview Glen Upper School at the end of March, it will be their second year at a venue they hope will be their home for at least the next little while. The show, rather appropriately, centres on the problems of theatre management, and the trials and tribulations of mounting a show. But its storyline is tame compared to the recent theatrical adventures of the SCS, for whom Bayview Glen is the sixth show location in just ten years.
It's truly been a "crazy" period for the SCS members. The songs from the show offer a whimsical guide to their search for a theatre – amply illustrating the problems that can befall community theatre groups, and the resourcefulness, resilience and commitment needed to overcome them.
I Can't Be Bothered Now
For many years Scarborough Choral's regular base for their annual stage show was the cavernous auditorium at Cedarbrae C.I., which, complete with balcony, could hold about 1,100 people. The huge stage was ideal for the large chorus, but the huge hall capacity made for a short single-weekend run; opening on a Thursday, the show was usually just getting settled in by the time it closed on Sunday. The deteriorating state of the facilities, however, together with increasing rental costs, finally convinced SCS to give up and leave after their 1999 show, Me and My Girl.
Slap That Bass!
The large recreation room in Bendale Acres, a Scarborough retirement home, was their first stop. And despite its having a small low platform instead of a real stage, limited lighting possibilities, restricted parking, a low capacity of about 150 and a cramped orchestra space where the players could hardly move without hitting each other (I know – I played the first show), the next three shows were presented there in dinner-theatre style.
Could You Use Me?
I guess not: 2003 saw another dinner-theatre presentation in the equally small and parking-lot challenged Latvian Cultural Centre, where a side wall consisting entirely of windows made black-outs in the matinees for Anything Goes! something of a challenge.
Bidin' My Time
The 2004 show, Annie Get Your Gun, was almost cancelled. But SCS finally took another school - the expensive but last-choice, last-chance and last-minute option, Stephen Leacock C. I. - as a stop-gap measure to buy time for a more thorough search.
Things Are Looking Up
Well, they certainly were at first when SCS moved into the brand new recital theatre at the Armenian Youth Centre. Sure, there were some problems from the start, including insufficient power for full stage lighting and backstage facilities that could most charitably be described as minimal, and the improvised green-room space could only be accessed through the gymnasium. But the auditorium size, seats and sight-lines were excellent, and there were promises of light and sound upgrading as rental use increased.
But Not For Me
Ah, promises, promises, as another show puts it. Upgrades were slow to appear, and the management was clearly moving towards single-use rentals in preference to long-term runs; in addition, technical hitches became an issue, with a jammed scrim lift halting The Music Man for 30 minutes one evening, and a brief but disastrous building power-failure almost completely derailing the first act of Fiddler On The Roof. When the rental cost increased for the second time, up 50 percent in two years, SCS saw the writing on the wall – or at least, they would have done if the lighting had been good enough. The musical nomads were on the road again.
They Can't Take That Away From Me
Determined to keep their fifty-three-year unbroken run of shows intact, SCS discovered Bayview Glen almost by accident. A society member who lived nearby simply walked in off the street on a whim one day and asked did they happen to have a theatre, did they ever rent it out, and if they didn't would they be interested in discussing it? Well, yes they did, no they didn't, and yes they would. Brigadoon found a home, and the rest, as they say, is history.
So far, things are working out well. The stage is not huge, but over the past few years many of the SCS members have decided to choose either the Sounds of Christmas or the annual show as their focus for the year, with a good number of the older members in particular opting for the Christmas concert over the more time-consuming demands of the stage production. This in turn has given the Society a new freedom to choose from a wider range of shows that do not feature a large chorus, and this should also help them to continue to attract the new performers that are essential to the long-term health of a musical group.
Nice Work If You Can Get It
The other main community-theatre venues, meanwhile – Scarborough Village, Fairview Library, and Burnhamthorpe Auditorium – may not be completely problem-free, but their users all enjoy a dedicated theatrical facility and an established and secure home base. And if they don't appreciate just how lucky they are then they should try giving Ron Turner a call.
You Can Catch SCS in Their New Venue
Onstage Productions presents Crazy For You at Bayview Glen Upper School, 85 Moatfield Drive; March 27, 28, April 3, 4 at 8pm; March 28, April 4 & 5 at 2pm. $25; Youths 16 & Under $10; (905)717-5808 (VISA & MC); (416)293-3981 (Cash or cheque)
You can also check out the other theatre facilities with the following Spring shows:
Fairview Library Theatre, 35 Fairview Mall Drive
Civic Light Opera Company: final week of Cole Porter's Silk Stockings; March 4-7; $20-$25; www.civiclightoperacompany.com
Curtain Call Players: Stephen Sondheim's Into the Woods; April 2-5, 9-11; $22; (416)703-6181 or curtaincalltickets@hotmail.com
Burnhamthorpe Auditorium, 500 The East Mall
Etobicoke Musical Productions: Jerry Herman's Hello, Dolly!; April 17-19, 24-26, May 1, 2; $23; Youths $17; (416)248-0410.
Scarborough Village Theatre, 3600 Kingston Road
Scarborough Music Theatre: Sondheim's Merrily We Roll Along; April 30, May 1-2, 7-10, 14-16; $24; Students/Seniors $20; (416)396-4049