The fall theatre season in Toronto is usually overshadowed by TIFF, so most seasons launch after the end of that festival. One company that did start during the film festival in mid-September was Red Sky Performance, launching their 2017/18 slate of shows with the magical Miigis transforming the military colonial setting of Fort York into a site of myth and reconciliation. Red Sky is all over the city this year, it seems (as well as touring internationally), and, as such, is a perfect exemplar of two themes emerging from season announcements: the increased presence of Indigenous artists and companies on the Toronto scene on their own and in collaboration with other companies; and collaboration itself, which can be seen across the board in the arts scene.
On October 7, Red Sky partners with the Toronto Symphony Orchestra to present, as part of Canada 150, the world premiere of Adizokan, a new genre-bending creation that explores an image-rich experience of Indigenous dance, video, music, electroacoustic and orchestral music. Next they collaborate with Canadian Stage to present the Toronto debut of Backbone (November 2 to 12), a cutting edge Indigenous dance creation noted for its masculine ferocity, inspired by the spine of the continents (originally co-commissioned with the Banff Centre for Arts and Creativity).
Canadian Stage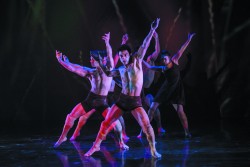 Collaboration is at the heart of the Canadian Stage season, a theme chosen to celebrate their 35th year and featuring a plethora of genre-bending creations from around the country, most involving music, and many choreographed movement, as integral ingredients. Their first production (before Backbone), as previewed in our September issue, is a collaboration with the Musical Stage Company and Yonge Street Theatricals: Life After, a newly expanded and developed version of the Toronto Fringe Festival musical hit by Britta Johnson, directed by Robert McQueen. Opening on September 29 and running until October 22, Life After is already generating a lot of buzz. Along with theatrical productions at the Bluma Appel and Berkeley Street Theatres there is also an intriguing wide-ranging music series which includes (in March) a bringing together of multi-award-winning Inuit throat singer Tanya Tagaq with trailblazing Greenlandic mask dancer Laakkuluk Williamson Bathory in a concert event combining tour-de-force vocals, kinetic movement and powerful spoken word.
Buddies in Bad Times
Bathory also collaborates with Canadian poet, composer and performance artist Evalyn Parry for Kiinalik: These Sharp Tools (October 24 to November 5) at Buddies in Bad Times, in a co-production with Theatre Passe Muraille as part of a new initiative between those two companies to share resources and introduce audiences to the work being done on other stages in Toronto. Both powerful storytellers, Parry and Bathory, who met on an Arctic expedition from Iqaluit to Greenland, will use music, movement and video as well as spoken word to map new territory together in a work that gives voice and body to the histories, culture and climate we've inherited, and asks how we reckon with "these sharp tools."
Tarragon
Across the city, Tarragon Theatre has two musicals as part of its mainstage season: in January Richard Rose directs a new version of Shakespeare's Hamlet, reimagined through the powerful lens of rock 'n' roll with a score and music direction by Thomas Ryder Payne. Earlier, in November, Tarragon presents the Macau Experimental Theatre/Music Picnic/Point View Art Association Production of Mr. Shi and His Lover, another show that began life at a festival, in this case the 2016 SummerWorks festival where it was an award-winning hit. Performed in English and Mandarin and with performers from Toronto and Macau, Mr. Shi and His Lover, written by Wong Teng Chi and Njo Kong Kie with music and music direction by Kie, tells the real-life story of a French diplomat in China who falls in love with a mysterious opera singer. With music inspired by Chinese opera and vintage pop from both East and West, the show will be performed in Mandarin with English surtitles.
(Kie, who is also the long-serving music director of Montreal's La La La Human Steps, also collaborates with Canadian Stage toward the end of their season [April 26 to May 6], introducing the Macau-based Folga Gaang Project in their Toronto debut with the hybrid musical performance Picnic in the Cemetery.)
Soulpepper
Almost cheek by jowl with Canadian Stage downtown, Soulpepper presents a more traditional season but again, music plays an important part, with the blues-infused Ma Rainey's Black Bottom in the spring. Soulpepper's expanded concert series also begins in October with Riverboat Coffee House: The Yorkville Scene (October 6 to 14), bringing to life the 1964 launching pad of Canadian singer-songwriters like Gordon Lightfoot, Ian and Sylvia, Murray McLauchlan, Joni Mitchell and Neil Young. Mike Ross will music-direct a lineup of multi-disciplinary artists as they celebrate the stories and songs that made Yorkville the place to be in the free-loving 60s. The series also includes A Very Soulpepper Christmas (December 15), Prohibition, the Concert (February 9, 10, 14) and A Moveable Feast; Paris in the 20s (March 30 to April 2). Created by Albert Schultz, with overall music direction by Mike Ross, the scripted concert series has a lively energy marked by its collaborative nature and its bringing together of different Toronto artists and musicians for each event.
Soundstreams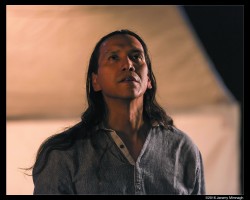 Downtown and uptown, venue depending on the type of event, is Toronto's eclectic and experimental yet classical Soundstreams, where music combines with dance and theatre in ever-evolving combinations.
Soundstreams' 35th season opens very strongly with two productions in October. On October 16 at Koerner Hall, Northern Encounters celebrates Canada 150 and Finland at 100 with Europe's northernmost professional orchestra, the Lapland Chamber Orchestra, performing music by Jean Sibelius, Harry Somers and Claude Vivier and, most interestingly for me, includes a new dance piece by powerhouse Canadian choreographer Michael Greyeyes to Vivier's Zipangu exploring the idea of "the city of gold."
A bit later in the month (October 26 to November 4) at Crows Theatre's new permanent space (at 345 Carlaw) Soundstreams collaborates with Crows' artistic director Chris Abraham (whose production of Moliere's Tartuffe is currently electrifying and delighting audiences at the Stratford Festival) on the world premiere of the first staged production of Claude Vivier's Musik für das Ende.
The wonderful Soundstreams Salon 21 series has also begun and continues throughout the season, offering audiences the opportunity to meet artists involved in upcoming events and to explore the inspiration behind those events, usually in the intimate setting of the Gardiner Museum. The Salon on October 19 (at Crows Theatre), "Endings: Lieke van der Voort and Jumblies Theatre," will feature a special rapid-creation performance inspired by Vivier's Musik für das Ende.
Quick Picks
Sept 22 to Oct 7: Hart House Theatre pushes the boundaries with what should be a strong production of John Cameron Mitchell and Stephen Trask's rock 'n' roll Hedwig and the Angry Inch. (WARNING: Coarse language, mature themes and sexually explicit scenes.)
Oct 24 to Dec 24: For fans of Meatloaf, David Mirvish presents the North American premiere of Brian Steinman's Bat out of Hell The Musical at the Ed Mirvish Theatre. A critical and popular hit already in England, the run here has quickly been extended to December 24.
October 20 and 21: Catch one of Toronto Masque Theatre's iconic double bills in TMT's final year: Dido and Aeneas/Aeneas and Dido, pairing Purcell's classic with James Rolfe's contemporary take on the same tale, starring Krisztina Szabó, Alexander Dobson, Andrea Ludwig and Jacqueline Woodley. At Jeanne Lamon Hall, Trinity-St. Paul's Centre.
October 28 and 29: Gilbert and Sullivan fans might want to catch TrypTych's production H.M.S. Parliament at Trinity Presbyterian Church West Hall, 2737 Bayview Ave. With a script by Canadian William Henry Miller and music by Arthur Sullivan, it's an intriguing music-theatre piece featuring eminent Canadian figures Sir John A. MacDonald and Sir Alexander Mackenzie.