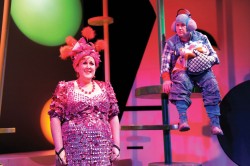 DECEMBER: With minutes to spare, I pick up my ticket for Seussical at Young People's Theatre (YPT) on Front St. and dash to my seat. The matinée audience of primary school students squeals and squirms with excitement, their eyes darting intermittently to the red and white striped hat that sits in the middle of the stage. I read a programme note in which Allen MacInnis, director and choreographer of the production (who also happens to be the artistic director of YPT), expresses his own excitement at remounting the show which was eminently successful in 2006 when he first directed it for the same theatre. Questions about why he is redoing it so soon are immediately answered: "I wanted to revisit the musical adaptation of Dr. Seuss's stories because it is a perfect fit for a season of plays that are thematically linked by the power of change."
How coincidental, I think: my late arrival at YPT resulted from a traffic snarl on King St. E. where the Occupy Toronto protest had swollen across the borders of St. James Park in response to a City eviction notice. More than seasonal change is in the air, a fact evident in much of the musical theatre on view during the next two months, in and beyond the GTA.
Settling into my chair to watch Seussical, a shortened version of the show by Lynn Ahrens and Stephen Flaherty that premiered on Broadway in 2000, I didn't have to wait long to recognize its relevance to the idea of change that permeates our current social climate. "A person's a person, no matter how small," Horton the Elephant introduces in the rallying cry in his very first song, Horton Hears a Who!, also the title of one of the stories by Theodor Geisel (Doctor Seuss) that the musical incorporates into its book. Although Horton is unable to see a Who, he can hear one, namely Jo-jo, a resident of the tiny world of Whoville who cries for help from her perch atop a speck of dust precariously caught on a clover leaf. Unable to convince anyone in the Jungle of Nool, where he lives, that Jo-jo exists, Horton becomes a subject of ridicule, suffering humiliating indignities that increase after Mayzie LaBird leaves him to guard an egg that she subsequently abandons. Captured by a team of mischievous monkeys, Horton is put on display in a circus where, despite his outcast status, he continues to protect Mayzie's egg and strives to rescue Jo-jo and the citizens of Whoville in whatever way he can.
For director MacInnis, Seussical is "a good fit" for YPT for a number of reasons. "I'm obsessed with the ways in which kids come into their own power," he explains in an interview, "how they learn to give and take it." Power, he suggests, is as much a sensation as a force: one senses it internally and externally, and not just in relation to physical prowess. Horton has power because he believes in himself — in what he alone can hear. Because he senses the capacity of his belief to change things, no matter how small, his power strengthens and begins to affect others. MacInnis likens Horton's belief to imagination, which is one of the reasons he includes a musical in every YPT season. "Musicals make the audience work — they give them room to fill in the gaps and make connections, to use their imagination in ways that naturalism doesn't allow." This makes them ideal for young people, especially those who let their imaginations run wild.
Seussical is a terrific show, and not just for kids. The physical skills of the cast, as much as their musical talents, maintain its snappy pace and help to elevate its simple staging to a sophisticated style that is as clever as Ahrens and Flaherty's eclectic score which covers a range from rap to rhythm 'n' blues and even includes a lullaby. George Masswhol brings a melancholy resolve to his performance of Horton (along with a voice like an angel) that grounds the production with sincerity and compassion to which the rest of the cast play with confidence. His real-life partner, Sharron Matthews, essays a mesmerizing Mayzie, especially when she vamps her way through How Lucky You Are. Running until December 30, Seussical offers family fare that is as timely as it is tuneful. There's no better gift for the holidays than this wise and winning tale.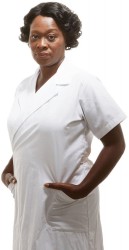 JANUARY: When I undertook to interview Mitchell Marcus, artistic producer of Acting Up Stage Company (AUSC), about Caroline, or Change, the American musical that receives its Canadian premiere on January 21 at the Berkeley Street Theatre (downstairs), I didn't consider that Seussical might make a useful comparison. After all, what possible connection could exist between a musical compilation of Dr. Seuss's fantastical parables and a character-driven study of an African-American maid working for a Jewish family in Louisiana in 1963? The answer is obvious to me now: change.
With a book and lyrics by playwright Tony Kushner (Angels in America), Caroline, or Change arrives in Toronto with a string of awards but limited commercial success. This alone provides a parallel, of sorts, to Seussical which, in its original Broadway incarnation, failed to win popular success or critical approbation. In retrospect, both shows suffered from unrealistic expectations and bloated production values. Only after Seussical was down-sized to a 90-minute version (which subsequently was further condensed to the 70-minute show on view at YPT), did it appeal to critics and audiences alike. While Caroline, or Change won critical success on Broadway in 2004, and in London in 2006, it failed to generate enough interest to garner subsequent productions of note, or to tour—the prime requisite for musical theatre longevity. For Marcus, this marks it as "an underdog musical," and qualifies it as a perfect choice for production by AUSC.
Marcus defines an underdog musical as one "that was so successful in a not-for-profit run that it usually has some momentum beyond its original production, even though it's not gone on to become a big commercial hit …" Invariably, such shows — he cites The Light in the Piazza (book by Craig Lucas, music and lyrics by Adam Guettel) as an example — "redefine our expectations of musical theatre," a central goal of AUSC which, Marcus explains, "seeks to produce thought-provoking, contemporary, intelligent musical theatre pieces, and to bridge the commercial side of musical theatre — the large entertainment spectacle musical — with the theatre scene in Toronto which I associate with provocative plays in intimate spaces, with great cast members."
Even a cryptic description of Caroline, or Change indicates how the piece fits AUSC's mandate. Completely sung-through, the book chronicles the relationship between Caroline Thibodeaux, a black maid and single mother, and Noah Gellman, the eight-year-old son of her Jewish employer. After the death of his mother from cancer, Noah increasingly relies on Caroline for guidance, especially when his new stepmother, Rose, convinces the maid to teach Noah a lesson about leaving change in his trouser pockets by asking her to keep the money she finds. Loathe to take money from a child, Caroline needs it for her own children, so she co-operates. Soon, Noah, deliberately, is leaving her change, fantasizing that Caroline's family acknowledges and appreciates his beneficence. The situation grows complicated when a $20 bill goes missing …
"From a book perspective, it's more a long piece of poetry than a forward-moving drama," Marcus suggests. "The audience has to be willing to accept the poetic journey that Kushner takes it on, which does move forward, but not as quickly as most people expect. This is a musical about feelings. This is a musical about people … being …"
The change in form that the producer identifies finds a corollary in the music composed by Jeanine Tesori, best known for her scores for Thoroughly Modern Millie and Shrek, the Musical, which, Marcus is quick to point out, differ considerably from Caroline.
Although fully sung-through, Caroline doesn't have a single song you can isolate. It's really like récit in opera, with all these different musical forms thrown together. Spirituals, blues, classical music, Motown, Jewish klezmer, folk music: the style shifts whenever a new character enters. The musical palette sounds like a radio in 1963, with someone changing the station every few minutes …"
The book further emphasizes change by setting Caroline's situation against a sweeping historical backdrop that includes the assassination of President Kennedy, conflicts over the Vietnam war and the struggles of the Civil Rights movement. "It's interesting to see a musical that focuses on the way an individual reacts when the community is changing around her. Artistically, the show pushes boundaries; socially, it offers so many opportunities for discussion …"
To produce Caroline, or Change, AUSC is partnering with Obsidian Theatre, whose mandate stresses its dedication "to the exploration, development, and production of the Black voice." Partnering, by increasing production budgets, allows companies to mount larger, more ambitious productions (such as Parade, which AUSC co-produced with Studio 180 last year). It also enables them to cast performers they otherwise couldn't afford. Caroline stars Arlene Duncan, a regular on CBC's Little Mosque on the Prairie, as well as seasoned professionals like Deborah Hay who played Eliza Dolittle in My Fair Lady at the Shaw Festival last summer. But the move is more than just practical, as Marcus points out. "By building relationships with other independent theatre companies, we can pool our audiences," a move essential for the evolution of musical theatre and the development of Toronto audiences. "We are being entrusted to push the boundaries of this genre and, at the same time, to develop new audiences for it, to open their minds to the possibilities of the musical form."
Pushing boundaries, opening minds. As I hurry home from my interview with Marcus in the cool autumn air, I recall MacInnis' comments about imagination and power, which lead me to wonder about musical theatre as an instrument of change. Seussical begins when the red and white striped hat in the middle of the stage begins to slide across the floor, all by itself — or so it seems to the audience. For the children at YPT, the moment equalled sheer magic. Unaware of the "smoke and mirrors" of stage-craft, they watched in amazement as an inanimate object moved on its own — or so they thought. What will the Toronto audience think of Caroline, or Change, a piece that conflates life's tumultuous changes with the change in a person's pocket?
At the end of Kushner's script, Caroline returns to her employer's basement to wash the laundry, resigned to her lot in life even as she curses God. Change, it would seem, is beyond her.
What would Horton say to her, I wonder? "A person's a person, no matter how … what?"
Robert Wallace is a Toronto-based, retired university professor who writes about theatre and performance. He can be contacted at musictheatre@thewholenote.com.
Theatrical Treats for Your Musical Sweet Tooth
Music theatre is as prevalent as candy canes at this time of year, in and beyond the GTA. If traditional treats satisfy your sweet tooth, check out A Christmas Carol – the Musical at Brampton's Rose Theatre that runs from December 15 to 18. This popular version of Dickens' haunting of Ebenezer Scrooge benefits from a melodic score by Alan Mencken that strikes all the right notes. If the dates don't fit, Runnymede United Church presents a dramatic reading of the poem on which it's based on December 4, with holiday music performed by Ben Heppner, accompanied by a string trio and two choirs. Soulpepper Theatre offers a longer run of the yuletide treat, but without the musical icing, in Michael Shamata's stage adaptation that opens on December 6 in the Distillery District, with Joe Ziegler heading an all-star cast.
White Christmas, a musical based on the 1954 film starring Bing Crosby with music by Irving Berlin, has grown in popularity since it premiered in San Francisco in 2004. Toronto's Civic Light Opera presents the melody-fest from November 30 to December 17 at the Fairview Library Theatre, in a production designed and directed by Joe Cascone. The Berlin show's iconic songs are unlikely to grace Angelwalk Theatre's Off Broadway On Stage, a musical journey of a different sort that opens for one week on December 7 at the Studio Theatre in the Toronto Centre for the Arts. Conceived by Brian Goldenberg, with musical direction by Anthony Bastianon, the show includes songs from The Fantasticks, Jacques Brel is Alive and Well and Living In Paris and Altar Boyz, productions that succeeded in small venues without marquee stars.
For less traditional treats, look no further than Like an Old Tale: An East Scarborough Retelling of The Winter's Tale by William Shakespeare. The score of this Jumblies Theatre production, composed by Juliet Palmer, showcases the remarkable soprano of Neema Bickersteth, who plays Hermione; it also incorporates traditional Tamil singing by Sarada K. Eswar, and First Nations singing by Rosary Spence. Presented at 793 Pharmacy Ave., the production runs from December 8 to 18. Another retelling of a traditional tale finds a wonderful setting in Toronto's Evergreen Brick Works when Theatre Columbus presents The Story, a new version of the nativity by Martha Ross, featuring rotating corps of local choirs and drummers under the direction of John Millard. The show opens December 13 and runs to the end of the month.
To usher in the new year, Toronto Operetta Theatre offers an unusual delight: The Gypsy Princess, a comic opera by Hungarian composer Imre Kálmán starring soprano, Lara Ciekiewicz, opens at the Jane Mallett Theatre, St. Lawrence Centre for the Arts, on December 28 for ten performances. Other notable January fare, while less seasonal, is tasty nevertheless. Cabaret, Kander and Ebb's popular musical based on the play by John Van Druten and stories by Christopher Isherwood, receives a student production at Hart House Theatre that is sure to attract a crowd. Under the direction of Adam Brazier, it opens on January 13 for two weeks. Further afield (geographically, at least), the Kingston Symphony presents musical theatre works by Andrew Lloyd Webber and others in an evening titled "Music of the Night" at the Grand Theatre on January 20. Michelle Todd, soprano, and Michael Hope, baritone, are featured.
Finally, on February 2nd and 3rd, Soundstreams presents The Sealed Angel, a musical drama by Russian composer, Rodion Shchedrin, that integrates the Amadeus Choir and the Elmer Iseler Singers with the ProArteDanza dance company in a liturgically-themed, multi-disciplinary work. With musical direction by Lydia Adams and choreography by Lars Scheibner, this ambitious production plays for two nights at the Royal Conservatory's Koerner Hall. Festive treats, it seems, are not limited to the holidays.
— Robert Wallace