The winter musical theatre season is off to a thriving start with the world premiere of Mike Ross and Sara Wilson's new musical Rose winning over audiences at Soulpepper. Based on Gertrude Stein's only children's book, The World is Round, this is very much a children's or family show, except that Rose's solo songs transcend that context through their philosophy and aching vulnerability, as she tries to understand who, what, where, and why, she is, so that she can finally say her name out loud.
Although I have never seen Soulpepper's famous Alligator Pie shows, I imagine that the staging style of Rose draws from those years of experience – a talented ensemble of actors and musicians happily playing myriad parts, slipping in and out of characters and costumes with the strum of a guitar. Hailey Gillis is superb as Rose, awkward and gawky as only a nine-year-old little girl can be; but beautiful in stillness and intensity as she focuses passionately on the goals of her adventure. Peter Fernandes is an excellent foil as Willie, her best friend, who is not bothered by existential questions at all until the day Rose is missing from school. The music is accessible and fun, and the show has huge potential though it seems still to be teetering between two plausible personalities, and hasn't yet decided exactly how serious or tongue-in-cheek the ensemble should be. (Rose runs until February 24 at the Young Centre).
From family theatre to rock and roll, Jukebox Hero, based on the songs of Foreigner, notably I Want To Know What Love Is, Jukebox Hero and Waiting For A Girl Like You has its official world premiere at the Ed Mirvish Theatre, February 20 to 24, after successful workshop performances this past summer in Calgary and Edmonton. A dream come true for Foreigner founder and front man Mick Jones, the musical idea was inspired by a passing comment from Diana Ross back in the 1980s and is now coming to life through the partnering of the band with Canadian producer and promoter Jeff Parry (Annerin Theatricals) who says he is determined to develop more new musicals in Alberta where he is based. Directed by Broadway veteran Randy Johnson, with a book by prolific British duo Dick Clement and Ian La Frenais, there is Canadian content on the team with music direction by Mark Camilleri and choreography by Tracy Flye as well as a Canadian cast featuring Geordie Brown and Richard Clarkin.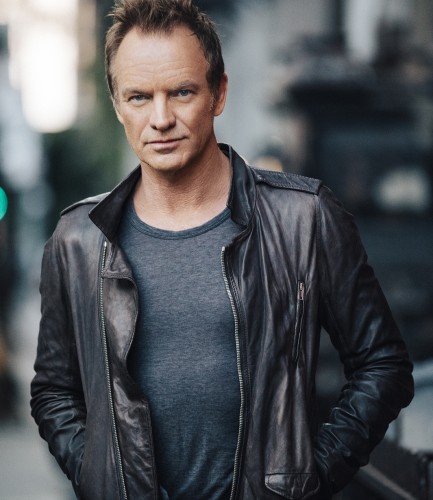 Mirvish is also presenting a very exciting Canadian premiere: an exclusive production created for Toronto of Sting's 2014 musical The Last Ship; at the Princess of Wales Theatre, February 9 to March 24. A deeply personal story for Sting, who grew up in Newcastle, and based on the successful "work-in" staged by the Upper Strathclyde Shipbuilders in Scotland in the 1970s, the show tells the story of a young man who returns home after 17 years at sea to find that the local shipyard is closing and no one knows what will come next, although a half built ship looms over the working class homes below. Sting will star in the role of Jackie White, the union leader who, with his wife, rallies the community in the face of seemingly impossible odds. Original music and lyrics by Sting along with some of his best loved songs (Island of Souls, All This Time, When We Dance) form the score, and the book is a reworking of the original by director Lorne Campbell. This new version recently completed a sold-out run at Newcastle's Northern Stage and a successful 12 -week UK tour. Perhaps this will be the beginning of a new North American life for the show. The Celtic-influenced music and theme irresistibly make me think of Come From Away, another wonderful story of a community coming together to do the impossible.
The Kiss of the Spider Woman
Jumping into the hotbed of musical theatre creation that Toronto has become, is a new company: Eclipse Theatre Company (ETC), founded by Canadian Broadway star Chilina Kennedy, artistic producer, Evan Tsitsias, artistic director, and choreographer/performer Sara-Jeanne Hosie, executive director.
ETC's mandate is to create site responsive work: reworking traditional musicals in non-traditional settings; producing new Canadian works; and laying the groundwork for future site responsive work through their annual Lab where musical theatre creators are invited to experiment and create in a hothouse atmosphere. The Lab had its first outing in 2018, and their first full production will be Kander and Ebb's The Kiss ofThe Spider Woman, at Toronto's old Don Jail, starring Tracy Michailidis, Kawa Ada, and Jonathan Winsby.
Kiss of the Spider Woman famously began its road to a Tony Award-winning run on Broadway here in Toronto in 1992 under the banner of Livent. Directed by Hal Prince, it starred Chita Rivera as the Spider Woman and Brent Carver, who leapt to a new level of stardom and international recognition as Molina, the gay window dresser imprisoned for a "sexual indiscretion," who survives the awful reality of his cell by escaping into Hollywood-fuelled fantasies of another world ruled by Aurora, the Spider Woman of the title.
Intrigued by the emergence of this company, their mandate, and their choice of flagship production, I asked two of the founders – Kennedy and Tsitsias – a few questions about their goals and what we might expect when Kiss of the Spider Woman opens in March.
WN: Why a new musical theatre company now – and in Toronto?
Eclipse: We are all music theatre performers and creators and wanted to contribute our share to the Canadian musical theatre landscape. Creating opportunities for both artists and audience was something that compelled us. Canadian musicals are exploding right now and we couldn't be happier to be part of that ecology. We are also strong advocates for creation and wanted a chance to incubate new work to add to the expanding canon.
How did you come together to share this goal and why is creating "site responsive theatre" at the heart of your mandate?
Chilina: When I originally had the idea to start the journey to what is now the Eclipse Theatre Company, I wanted to bring on board an artistic director who had a strong and passionate vision for the company and who would help add a new colour to the already rich theatre scene in Toronto. Evan was the perfect choice and I have been excited by his ideas from our very first phone conversation. The addition of Sara-Jeanne Hosie made the perfect triumvirate. Her business skills mixed with a smart and creative artistic mind made her an easy and clear partner for Evan and I.
Evan: I have spent the better of ten years travelling around the world creating site responsive theatre in countries like Germany and Taiwan, usually creating original pieces that spoke to the history of the space we were creating and performing in and making parallels to what is happening now in the world. I wanted to bring that to Toronto, which has a rich history and is full of stories itself. We wanted to animate spaces that highlight that history and bring awareness to those spaces. It's also a matter of "Why spend all that time and effort to recreate a space for a piece inside a theatre when we can find an actual space that exists and bring theatre to it?" Of course, this poses its own challenges, but in the end it's all worth it for this magical experience.
Why did you choose Kiss of the Spider Woman as your inaugural show, and Toronto's old (former) Don Jail as the performance location? Which came first?
Evan: They kind of went hand in hand. I started by Googling "interesting spaces" in Toronto to see what would inspire or trigger an idea, while at the same time I created a list of shows that interested me. When I saw the Don Jail, those two ideas collided thrillingly into this production.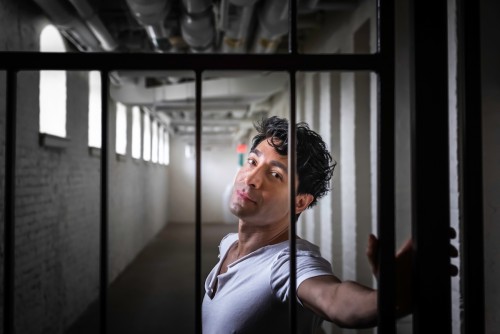 Immersive and site specific shows are on the rise again – what in your approach to using the space will be unique? Also, will the performers and/or the audience be stationary or moving around the site?
Without giving much away, there is definitely a walk-through element to the piece pre-show that will be immersive. We are also doing our best to animate the space fully during the show to make that space a character in itself. The space, though extremely high, is still intimate and has the perfect bones to make the audience feel like they are experiencing the show inside the actual environment.
Given that the show will be in a non-traditional space, how big a band/orchestra will you have, and will they be set in one place or able to move to follow the staging if necessary?
We are using a full orchestra and at the moment they are staying stationary since that space is an extremely tall echo-filled chamber so we need to control the sound as much as possible.
The run of Kiss of the Spider Woman is very short, just seven performances from March 6 to 10. Why such a short run?
This particular Eclipse "event" is something we want to produce annually. It is based on the New York City Centre's Encores Series, where, although it's "concert" style, it is still as fully realized as possible, but with scaled-back costumes and set, which is one of the reasons we are staging it in the Don Jail (where we are literally in the set). The short run is a way to produce these larger-scale shows on a more limited budget, otherwise it might not be possible. Musicals are extremely expensive!
How does this first production connect with the two other main elements of your season the Lab and the new Canadian show you will present next?
The Lab was an exhilarating project and the true definition of site responsive. We brought the creators to a loft we rented in Leslieville and, without ever seeing it until the first day of the week long project, they entered the space and responded to it, writing scenes and songs about the space itself and the objects they found in it. The results were tremendous and it was a magical event. We are now incubating a show from one of the scenes that was written that week based on a toy they found in the space. The other project is still in development, but again, we will respond to the piece appropriately once it's completed. Even if it ends up being in a traditional theatre, we will do our best to create a space and environment that feels as immersive as possible.
Kiss of the Spider Woman runs March 6 to 10 at the Don Jail administrative building. For more information go to eclipsetheatre.ca.
MUSIC THEATRE QUICK PICKS
CONTINUING TO FEB 9: Tapestry Opera/Theatre Passe Muraille. Hook Up. Opera meets music theatre in this hard-hitting new opera about the issue of consent by Julie Tepperman and Chris Thornborrow featuring a fabulous young cast of crossover performers directed by Richard Greenblatt in his opera-directing debut.
FEB 14 TO 24: Canadian Music Theatre Project/Theatre Sheridan. My Bonnie Lass. A first look at another new Canadian musical, this one with a Scottish theme, by Johnny Reid and Matt Murray.
FEB 21 TO 24: Canadian Stage. who we are in the dark. Peggy Baker joins forces with Jeremy Gara and Sara Neufeld of the award-winning Canadian band Arcade Fire, seven dancers, and light and projection designers, for the world premiere of what promises to be an exciting new collaboration
Toronto-based "lifelong theatre person" Jennifer (Jenny) Parr works as a director, fight director, stage manager and coach, and is equally crazy about movies and musicals.