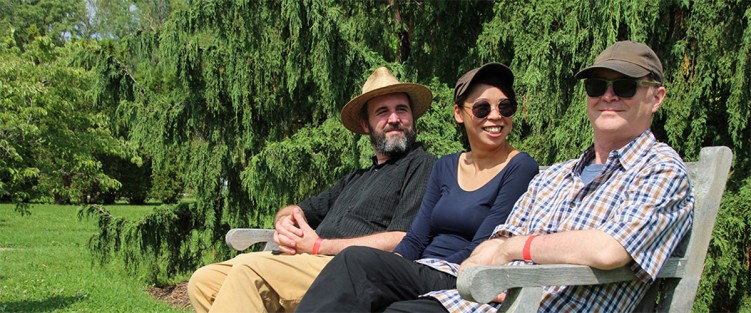 First launched in 1994, the Guelph Jazz Festival has defined itself as a champion for the music's creative edges, whether artistic or social, over the years, having presenting major international artists such as Randy Weston and Anthony Braxton. For its 2021 edition, running from September 14 to 19, the festival is rising to new challenges, shifting its programming to include new venues and more free events and presenting varied music throughout the day and throughout the city of Guelph, creatively and socially engaging within the limitations imposed by the ongoing COVID-19 pandemic.
This year, the festival has shifted its usual downtown outdoor presentation of continuous bands to an innovative set of park concerts: three programs of three bands each, with each program presented daily from September 16 to 18, at different parks throughout Guelph. The concerts include a program of groups exploring "Old Jazz Made New" (see details below); "Percussion International," with Amadeo Ventura's Spoken Rhythms, Aline Morales Baque de Bamba and Ensemble Jeng Yi exploring different rhythms from around the world; and "Pops said All Music is Folk Music," with Turkish Music Ensemble, Boxcar Boys and Abebe Fikade's ETHIO AZMARI.
There's also a traditional series of ticketed evening concerts focusing on distinguished Canadian performers. On September 16, turntablist SlowPitchSound presents "Bending Things We Know So Well," a project which includes field recordings from the Guelph area; longstanding duo of trumpeter Jim Lewis and drummer Jean Martin employ live electronics as part of an improvised music set on September 17; the Rob Clutton Trio performs on September 18 (see below); and, closing the series on September 19, Montreal's distinguished Quatuor Bozzini performs works by Toronto composer Martin Arnold.
Other festival programming this year showcases a remarkably varied range of music, including reinvented instruments, a sound installation and witty street art. Three distinguished pianists explore Andrew Wedman's radically retuned pianos in Bass Piano XII (September 17 to 19, see below). At the Goldie Mill Ruins, Guelph sound artist Lisa Conway presents SOUND MILL, using underwater recordings, analog synthesizers and light sensors to create a shifting soundscape based on river flow and changing light (September 14 to 16). For "The Birds of Marsville", Oakville-based composer Friendly Rich Marsella plays his mechanical street organ at three different outdoor sites, exploring the songs of 80 different (and imaginary) species (various times and locales, September 16 to 18).