OOPS! It's red face time again. I'm guilty of a silly error. Many years ago I taught writing courses at a local institution of higher learning. It was my standard practice to emphasize certain basics such as "get your facts correct." Last month I broke one of my own cardinal rules. I failed to check one very simple fact. I have known Eddie Graf for years. I spoke to him, his wife and son, before writing about his birthday celebration, but had never asked the question, "What did the short form 'Eddie' stand for?" It could have been Edward, Edgar, Edgwick, Edsel or even Edwin. I guessed wrong. His name is Edwin not Edward. My apologies, Eddie.
Now for a look at the smorgasbord of community musical happenings which have been unfolding and are scheduled for the coming weeks. Let's start with a bit more about Stephen Chenette. In last month's issue I mentioned that Chenette had announced a special award for Eddie Graf and I alluded to some honours which Chenette himself had received in recent years. Most recently, he was the recipient of the Canadian Band Association's 2010 National Band Award. This award is presented to a CBA Member who has made an outstanding contribution to banding across Canada. After trumpet studies with the likes of Arnold Jacobs, Rafael Mendez and others, and conducting studies with several top conductors, Chenette served as principal trumpet with the Denver Symphony Orhestra, the Boston Pops, the Minnesota Orchestra and the St. Paul Chamber Orchestra. He was a charter member of the International Trumpet Guild when it was established in the 1970s and received that organization's Award of Merit in 2008. Now Professor Emeritus, Chenette recently retired from active teaching in the Faculty of Music at the University of Toronto where he was Head of Brass, taught trumpet, orchestral repertoire for winds, brass chamber music and conducted the Concert Band, the Wind Symphony, and the Brass Choir. He has also recently retired after many years as Director of Music of the Northdale Concert Band in Toronto. However, he is still keeping his musical skills sharp by active participation in the trumpet sections of the Northdale Concert Band and the Etobicoke Community Concert Band.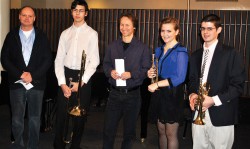 Enough about our veterans of music for a while. It's time to turn our attention to some highlights from younger members of our musical community. During the Hannaford Street Silver Band's annual Festival of Brass weekend, in mid-April, I had the pleasure of hearing the three finalists in the 10th year of the Hannaford Youth Band's Rising Stars competition. No fewer than 13 members of the Youth Band entered the competition and performed their solos with piano accompaniment in a recital format in January. Out of that group, three finalists were selected by adjudicators Curtis Metcalf and Norman Engel. The Youth Band then learned the brass band accompaniment for the solos of the finalists and they performed, April 15, at the Festival of Brass Friday night Youth Concert.
The winner, Jacob Plachta, performed, from memory, the first movement of Gordon Langford's Sonata, Serenade and Scherzo for trombone. A graduate of Wexford Collegiate, Plachta is in first year performance in the Faculty of Music at the University of Toronto. Plachta started out with Hannaford in the Community Band five years ago on baritone. He is also a talented pianist and plays at the ARCT level. In addition to performing from memory, what makes his accomplishment more amazing is that he missed the dress rehearsal because he had to write two exams at UofT.
Second place in the competition went to Matthew Ross who performed From the Shores of the Mighty Pacific by Herbert L. Clarke. Ross is a native of Bermuda and is in second year performance at UofT, studying with Anita McAlister. He also had exams to write at UofT on the day of the competition. This is Ross's second year with the Hannaford Youth Band. Last year he played flugelhorn and this year he is "end chair solo cornet."
Third place honours went to Rachel O'Connor on soprano cornet who performed Concertino by Ernst Sasche. Now in her second year of performance at UofT, O'Connor has played soprano cornet with the Hannaford Youth Band for the last two seasons. Before coming to UofT, she attended the Etobicoke School for the Arts.
Plachta was awarded $500 and a trophy that he will keep. His name will also be engraved on the Rising Stars plaque donated by St. John's Music. He also performed his solo with the HSSB on Sunday, April 17, and received a recording of his performance. Ross received $300 and O'Connor $200. Both Ross and O'Connor performed on instruments that have been donated to the Youth Program by the family of the late Fred Mills.
The judges for the final competition were Alain Trudel and guest artist tuba virtuoso Patrick Sheridan. For his part of the program, Sheridan stunned all in the audience, not just with his mastery of the instrument, but with a range of tonal colours and rapid execution most of us had never before heard coming from a tuba. During a brief post-concert conversation, I learned from Patrick about a new program of breathing exercises which he has developed with Sam Pilafian, another great of the tuba world. It's called The Breathing Gym. It's a course of breathing exercises for band, chorus, and orchestral winds. I hope to have more information about the 2009 EMMY award winning DVD version of this program for a future issue.
Two awards in the community ensemble domain have recently come to our attention. The most recent saw the Newmarket Citizens' Band awarded a Platinum rating at the annual Music Alive festival. Rather than being a competitive type festival, this is a festival where a group's performance is rated against a set of standards of performance. The other award was not for a band or orchestra, but for a radio documentary about Resa's Pieces, a community band for beginners and those rediscovering their instruments. CBC Radio's The Sunday Edition received a 2011 Gabriel Award for Watch My Stick, PLEASE! Here is what the award stands for: "The single most important criterion of a Gabriel winning film or program is its ability to uplift and nourish the human spirit. A Gabriel-worthy film or program affirms the dignity of human persons; it recognizes and upholds universally-recognized human values such as community, creativity, tolerance, justice, compassion and the dedication to excellence." Congratulations to Alisa Segal and Karen Levine. Look for it at www.cbc.ca/thesundayedition/2010/06/watch-my-stickplease.html.
Over the past few months I have mentioned the formation of the first New Horizons Band in this area. It all started last September when a small group met and were introduced, by Dan Kapp, to the family of instruments used in a concert band. Comments such as "how do I hold it," were prevalent. A week later, on a weekday morning, they assembled for their first lesson/practice and were informed that the CBC's Glenn Gould Studio had been booked for their first concert in May. (What an absurd idea!) Within a few weeks, word had spread and there was pressure from people still holding down day jobs for a new band with evening rehearsals. Responding to that pressure, a second band took shape in January with evening rehearsals. By now, the combined bands, rehearsing some identical repertoire and some different, numbered 49 members. With a concert looming on the horizon, the program was taking shape. However nobody had selected trombone as their new musical companion. Guess what? Yours truly and a fellow ringer were recruited for that performance.
The rest is history. I had expected a small token audience of family and friends. Instead, the hall was almost full with an enthusiastic audience. The concert went off without a hitch and the lobby was crammed full at the reception after. Congratulations to Dan Kapp and all members of the group who had the will to believe that they could pull it off. A great beginning. Now, stand by for another startup group: Resa's Pieces Strings will present their Debut Gala Performance on June 5. See the listings for details.
Definition Department
This month's lesser known musical term is: Gregorian champ:
The title bestowed on the monk who can hold a note the longest.
We invite submissions from readers.
Coming Event Quick Picks (See the Concert Listings for details)
• June 05 7:30, Resa's Pieces Strings. Debut Gala Performance.
Ric Giorgi, music director. Richmond Hill Centre for the Performing Arts.
• June 04 7:30, Festival Wind Orchestra. Broken Mirror Concert.  Works by Prokofiev, Holst, Mozart, Rossini; Broadway pieces by Sondheim, Rodgers and Hammerstein, and Bernstein. Keith Reid,     conductor. Lawrence Park Community Church.
• June 14 8:00, Resa's Pieces Concert Band. Twelfth Gala Performance. Resa Kochberg, music director. Richmond Hill Centre for the Performing Arts.
• June 15 7:30, Oshawa Civic Band. Scottish Splendour.
Barrie Hodgins, music director. Featuring the sounds of brass with      pipes and drums. Memorial Park (corner of John St. and Simcoe St.), Oshawa.
• June 16 7:00, Whitby Brass Band. In Concert. Rotary Park,
Queen St., Bowmanville.
• June 19 7:30, Silverthorn Symphonic Winds. Borrowed Treasures. Wind Ensemble concert featuring 2010/2011 artist-in-residence Peter Stoll, clarinet; Andrew Chung, director. St. Mary                            Immaculate Roman Catholic Church, Richmond Hill.
• June 25 8:00, Kindred Spirits Orchestra/Voices Choir. Mozart's Coronation Mass. Mozart: Don Giovanni Overture K527; Symphony No. 41 kK551 "Jupiter"; Mass in C K317 "Coronation."     Glenn Gould Studio.
• June 29 7:30: Oshawa Civic Band. A Canadian Salute.
Barrie Hodgins, music director. Concert in honour of Canada Day.  Memorial Park (corner of John St. and Simcoe St.), Oshawa. 
Jack MacQuarrie plays several brass instruments and has performed in many community ensembles. He can be contacted at bandstand@thewholenote.com.