Another year has arrived, and with it many happenings on the local musical scene. The information which has been tumbling in at an amazing rate is so diverse that this time the challenge of where to begin is more difficult than ever. Perhaps it's best to simply pick up where I left off two months ago on the topic of programming. In the last issue I mentioned two out-of-town concerts I was looking forward to from groups with a reputation for excellent programming. I am happy to say they lived up to expectations.
The first was presented by London-based Plumbing Factory Brass Band. Skillfully crafted by its director Henry Meredith, this program, titled "Dance Music of Many Times and Places," took us on a musical journey through ten countries spanning over four and a half centuries. We were even taken to outer space for a dance of "two heavenly bodies" to commemorate last summer's transit of Venus, with Sousa's march by that name. Polkas, waltzes, two steps, tarantellas and more were enhanced with demonstrations by dance historian Cathy Stephens. Even the printed program was a delight, containing a collection of photos and drawings which shed a light on the works.
The concert in Waterloo four days later by the Wellington Winds was equally imaginative, mixing traditional Christmas music, including gems like Holst's In the Bleak Midwinter, with transcriptions of stellar orchestral works including a five-movement concerto grosso by Arcangelo Corelli, a concerto for clarinet by Carl Maria von Weber and a concerto for guitar by Antonio Vivaldi.
At intermission the Wellington Winds introduced their "Appassionato" initiative with presentations by local dignitaries. The centerpiece of this project is a two hour-DVD "illustrating the life of a concert band." I will have more to say about that extraordinary project in a later column. However, since our last issue, news of local band happenings has been pouring in, so it is time to move on to new topics.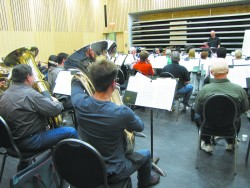 Markham: Of great personal interest to me is the completion of the Cornell Community Centre and Library in Markham. A few years ago I had the privilege of arranging visits by members of the Markham Town Council and other interested parties to the band rehearsal facilities in Cobourg and Oshawa in the hopes of persuading local officials to incorporate musical rehearsal facilities into a community centre under consideration. That dream of the Markham Concert Band has now come to fruition. The band played their last rehearsal in their old rehearsal hall just before Christmas. The first rehearsal in January was in the spacious new hall with shadow-free lighting, storage rooms and two small practice rooms. Included in this room is a bleacher-type seating arrangement which folds out into the room to provide accommodation for a modest-sized audience when required. The official opening of the centre is tentatively scheduled for February 9.
While on the subject of the Markham Band, they will be presenting their first concert of the year on Sunday afternoon, March 3, in the Flato Markham Theatre. "Stories and Legends" will feature excerpts from Disney's Fantasia, Prokofiev's Peter and the Wolf and Copland's Lincoln Portrait. One regular feature that the Markham Band includes in every concert program is a profile of a band member. Over the years these profiles have provided audience members with an insight into the diversity of the people behind the instruments. They learn of the occupations, hobbies and perhaps even eccentricities of the music makers on stage. As was pointed out to me recently, they also serve another very useful purpose. They help band members get to know each other. Most rehearsals leave little time for socializing, and these profiles help to shed a bit of light on the person behind that familiar face in a section on the far side of the band.
Brampton: On Saturday, February 23 at 8pm, the Brampton Concert Band under the direction of new music director, Vince Gassi, will be presenting "A World of Music" in a special tribute to retiring music director Darryl Eaton in the Rose Theatre. Darryl has been at the helm since 1999.
CAMMAC: Would you like to improve your sight-reading and performance skills? CAMMAC's Wind Band Workshop might be for you. The workshop will focus on key performance skills such as dynamics, articulation, balance and blend in a hands-on learning experience. This tips and tools session will be conducted by Fran Harvey, a music educator and conductor who holds degrees in music and education. Since 2003, Fran has been the conductor of the Metropolitan Silver Band. The workshop will take place on February 23 at 2pm at the Northern District Library, 40 Orchard View Blvd., Toronto. For more information, contact Gerald Martindale, 416-551-5183, bellman@rogers.com.
York University:While on the subject of workshops, York University has recently announced that they will be conducting another band workshop similar to the very successful inaugural one last year. We don't have many details yet. However, this isn't taking place until early May. As soon as more details are received, they will be posted in this column.
CBA Award: We have just received word that Matthew Donnelly, 26, of New Hamburg, Ontario, has been named winner of the Canadian Band Association's 2013 annual award for the best original score by a new Canadian composer. Donnelly, who plays clarinet, as well as acoustic and electric bass in the 60-member Kitchener Musical Society Band, was inspired by the beauty and history of the local Nith River when he started work more than a year ago on a composition titled River Valley Sketches. After trying out draft versions on fellow musicians at KMSB rehearsals, he entered his score in the competition. His composition topped a field of 27 submissions from musicians coast to coast. The first place honours also come with a $1,000 cash prize.
Resa's Pieces:A little news item from Resa's Pieces tells us that the band has added quite a few new members this year and is getting close to the 60 mark. They are gearing up now for their 14th gala on June 11 in the George Weston Recital Hall. More details will follow in a later issue.
Honours: Just in, here's an item of interest to brass players. Former Tonight Show bandleader Doc Severinsen was recently surprised with an unexpected honour. Minutes before Severinsen's second-half appearance in a recent Koerner Hall concert, Peter Simon, president of the Royal Conservatory, named the trumpet virtuoso an Honourary Fellow of the Royal Conservatory.
While on the subject of honours, we have just learned that Christopher Lee, principal flute of the Toronto Philharmonia, has been invited to be the guest of the Los Angeles Flute Guild for their Flute Festival 2013. In addition to giving a masterclass, he will participate in a recital with other luminaries of the flute world. Congratulations Chris.
Roy Schatz:Their final performance will have passed by the time this issue is published and its not even a band event, but I would be remiss if I failed to mention the 50th anniversary season of the St. Anne's Music and Drama Society, at the forefront of Gilbert and Sullivan productions in Toronto since its inception. My parents met in a G & S production where my mother sang the role of Buttercup in HMS Pinafore. As a child I was brought up on G & S. As an adult, I played in the St. Anne's Orchestra for many years and got to know its director, Roy Schatz. In recent years Roy has turned the directing reins over to daughter Laura, but he will be on stage singing in his 50th consecutive year in this year's production of The Gondoliers in the role of His Grace, The Duke of Plaza-Toro. How many performers can match that? Performing in same group's annual presentation for 50 years without a break must be a record for Guinness to consider. Congratulations Roy. 
Jack MacQuarrie plays several brass instruments and has performed in many community ensembles. He can be contacted at bandstand@thewholenote.com.