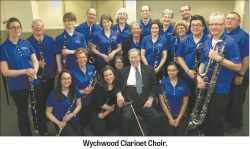 It all started with a very nasty accident but with an outcome that, as I witnessed, was anything but accidental, namely a well-crafted concert by a rarely heard form of musical ensemble. As for the accident, it happened a few months ago. After one of their regular rehearsals, members of the Wychwood Clarinet Choir saw a woman riding her bicycle getting tangled with the streetcar tracks and being thrown to the pavement. Immediately, those choir members sprang into action like a well-practised team. They rendered first aid and took the victim back to her home at the nearby Christie Gardens retirement residence.
Over the ensuing weeks, those choir members and the victim, Bruna Nota, remained in touch and developed a strong bond of friendship. As her recovery progressed, Nota suggested that it might be appropriate for the choir to perform a concert for the residents of Christie Gardens. I had the pleasure of being a guest at that concert, my introduction to the work of the Wychwood Clarinet Choir, their director, Michele Jacot and several excellent arrangements for the ensemble, several by choir members.
Jacot grew up in Toronto in a house where there was constant good music. I asked her one of my usual questions: "Did you choose the clarinet or did the clarinet choose you?" Apparently the clarinet chose her, when she began music studies at Oakwood Collegiate. After undergraduate studies in music performance at the University of Toronto and a master's degree from Northwestern, she returned to Toronto and embarked on a career of performing and private teaching. Now in its fourth season, the Wychwood Clarinet Choir was the brainchild of Jacot and a few of her adult clarinet students. It now numbers 20 regular members including her former teacher at Oakwood.
To acquaint audience members with the many diverse voices of the six members of the clarinet family, a sextet consisting of one of each instrument performed a very clever arrangement of What Shall We Do With a Drunken Sailor by choir member and former teacher, Roy Greaves. This was followed by one movement of a transcription of a Mozart serenade for wind octet also arranged by Greaves.
In the planning for this performance and their spring concert, the hunt for suitable arrangements led to another "happy accident." It turned out that choir member Katherine Carleton knew renowned Canadian composer Howard Cable. Might he have written or arranged works for such a group? Yes he had. He hadn't seen them for quite some time, but with a bit of digging, he provided two works. The first was an original 1964 composition, Wind Song, which he wrote for members of the Band of the North American Aerospace Defense Command (NORAD) in Colorado Springs. The other was an arrangement of "Bewitched, Bothered and Bewildered" from the 1940 Rodgers and Hart Broadway musical Pal Joey. So Cable was there to guest conduct these two works, mentioning that he had not heard either work in 50 years.
As a surprise for Cable, two former choir members, Harry Musicar and Sydney Gangbar, were invited to this performance. They were both schoolmates of his at Toronto's Parkdale Collegiate and played with him in the school orchestra under Leslie Bell (who later achieved prominence as conductor of the Leslie Bell singers). In so many ways this concert really clicked for all concerned.
If you have never heard a clarinet choir with its many voices, it's time to do so. Wychwood will be performing their spring concert at 3:30pm, May 12 at the Church of St. Michael-and-all-Angels in Toronto. While Cable has a prior commitment which will preclude his attendance at that spring concert, a bond has been formed with the choir. Rumour has it that he has already written a new work which will feature Jacot as soloist. We'll be looking for him and that work at their fall concert.
Hannaford: April also saw the great Hannaford Street Silver Band's annual three-day festival. The winner of this year's Hannaford Youth Rising Stars Solo Competition was Jonathan Elliotson from Orangeville who has just finished second year in the performance program at U of T's Faculty of Music. He played Jubliance by William Himes on cornet from memory. Elliotson has been the end-chair solo cornet in the Hannaford Youth Band this past season. The Hannaford Youth final concert of the season will be May 11 at 2pm at the Church of the Redeemer in Toronto. It will feature Andrew McCandless, principal trumpet of the TSO as guest soloist.
Speaking of Hannaford, at last year's Hannaford Rising Stars competition, Jacob Plachta, now in third year trombone performance at U of T, won performing his own composition Sonata for Trombone and Brass. At this year's HSSB festival, the Youth Band premiered Plachta's new work for brass band titled Celebration. Another Youth Band member, Adrian Ling, has written a three-movement work titled Progressions for Brass Band, with one movement for each band of the Youth Program: Junior, Community and Youth. These three movements will be performed at their spring concert with the three bands set up in different locations in the church. Ling is a first-year composition student at U of T and started with the Hannaford Youth Program seven years ago. At the Junior Band's Christmas concert, they performed a piece called Elf Factory composed by nine-year-old percussionist James Muir, about the elves complaining about working for "the man" who is of course Santa. It even has lyrics that are sung in the middle by the band members. At the Community Band's February concert, they performed a piece written by grade nine tuba player Blaise Gratton called The Perfect Storm. This has lots of rhythm and percussion with lots of notes for the tubas. Who thought that composition was only for the old fogeys?
Ensemble time: It was gratifying this month to learn of a number of concerts by small ensembles. There is nothing like playing in a small group to hone one's timing, tuning, phrasing and sense of cohesion with fellow musicians. This month, Western University professor Henry Meredith told me about a student concert set up to do just that, with pieces featuring students with like instruments, in ensembles with such clever titles as the "Majestic Trumpets," the "Trom-Bonus" and the "Horn-Utopia." Meanwhile, members of the four Toronto New Horizons bands organized an afternoon of "Chamber Sweets" where at least 17 small groups performed while audience members indulged their sweet tooths on the assortment of goodies provided. On May 25 the Milton Concert Band will present "Maytoberfest." That's their version of Octoberfest in May, complete with a full-course German dinner and a special musical treat: the guest small ensemble will be the Alphorn Choir of the Ein Prosit German Band of Kalamazoo, Michigan.
Kudos: Our hats are off to the Newmarket Citizens Band for their performance at the recent Music Alive festival. This is a non-competitive adjudicated festival, and they were awarded the highest possible Platinum rating for their efforts. It takes lots of confidence to start off an adjudicated performance with a number like Amparito Roca to establish your credentials. 
Jack MacQuarrie plays several brass instruments and has performed in many community ensembles. He can be contacted at bandstand@thewholenote.com.