As I sit down to the keyboard to write this month's column, there is one matter first and foremost in my mind. When will IT end? Having just come into the house after a liberal application of salt to the ice-coated sidewalk which followed several days of snow shovelling, I'm looking for an end to wintry blasts and white mountains of snow. I have been assured that there is a light at the end of the tunnel and that it is not the light of an oncoming train.
International Horn Day: While the weatherman isn't very reassuring, there certainly are many signs of spring in the musical world. The brightest musical light on the near horizon is the Toronto International Horn Day on Sunday, March 30. Founded in 2006 by Joan Watson and Gloria Ratcliffe, this year's event will be held at Humber College, 3199 Lakeshore Blvd W, Toronto.
The inaugural International Horn Day event was held in Toronto in November of 2006. Since then, this has grown into a major annual event bringing together professional, amateur and student horn players to share their love and enthusiasm for the majesty of the horn. This year it will be an all-day event starting at 9am and continuing until the final concert from 4:30 to 6:30. For horn aficionados of all levels this is a must-attend event. Artistic director Ron George will be ably assisted by artistic advisors Joan Watson, James MacDonald and George Lloyd.
The day will begin with a Morning Warm-Up. Ron George, who is horn professor at the University of Western Ontario, will lead everyone through his daily maintenance routine which explores all aspects of horn playing. Then, from 11am to noon there will be Jazz Horn with James MacDonald, for all levels from beginners to seasoned jazz performers to learn the basic 12-bar blues form and the basics of improvisation.
A Mock Audition will be conducted from 10:30am to noon followed by a Feedback Session from 2pm to 3:30. This will have participants performing a mixture of operatic and symphonic excerpts, plus a solo piece. There will also be a masterclass with guest clinician, Chris Gongos, a student horn ensemble with Gary Pattison, principal horn of the National Ballet Orchestra plus several options to perform in the concert and/or the grand finale.
The principal attraction for me would be the "Wagner Tuba Petting Zoo." Scott Wevers and Bardhyl Gjevori from the Canadian Opera Company will be on hand to demonstrate the instrument and show some basics of how to play it.
There are simply too many opportunities for participants in this one-day event to detail here. For complete details visit the website at hornday.ca.
Clarinet Day March 2: Not to be outdone by the brass folks, the woodwinds are having their special day as well. Sunday March 2 will be Clarinet Day at Walter Hall in the Edward Johnson Building of the University of Toronto. The day will start at 10am with clarinet workshops conducted by a number of clarinet clinicians. At 1:45pm there will be coaching sessions with James Campbell, the U of T Clarinet Ensemble and the Wychwood Clarinet Choir. At 7:30pm there will be a concert by the two combined ensembles. This time almost all of the many members of the clarinet family will be heard in performance. If you're not familiar with the sounds of a contrabass clarinet or any of its small relatives, attend the concert for an unusual treat. As an added plus there is no charge for any event. The Edward Johnson Building is at 80 Queens Park Crescent. Visit wychwoodclarinetchoir.com for more details.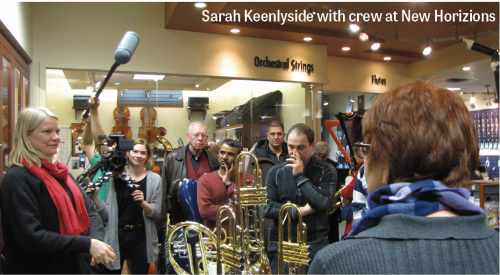 Having learned that Long and McQuade were having an Instrument Exploration Workshop to acquaint potential recruits for yet another New Horizons beginners' band in Toronto, it was imperative that I pay a visit. When I arrived with camera in hand, I soon learned that mine was not the only camera there. The sizable group of prospects exploring potential instrumental companions was being filmed for TV. Filmmaker and journalist Sarah Keenlyside of Inkblot Media was there with her crew filming the action and interviewing band prospects for a proposed one-hour documentary on the Toronto New Horizons groups. The final production is slated to be aired on TV Ontario next fall. We discussed the evolution of these bands from the original beginners group to level 2 and level 3 groups and wondered how many group levels there might be. Sarah posed an interesting question: "Is there such a thing as graduation?" Good point!
While on the subject of New Horizons bands, I received an interesting phone call a few days ago. It was from a member of one of the Toronto bands who is contemplating a move to Peterborough. Could I put her in touch with the folks in Peterborough? Playing in a band is now an important part of her life and she doesn't want to give that up if she moves.
As announced in last month's column, the Canadian Band Association (Ontario) formally announced their campaign to promote public awareness of the activities of wind bands in Ontario. The campaign was officially launched by the Honourable Brad Duguid, the local MPP and Ontario Minister for Training, Colleges and Universities. Supporting Mr. Duguid at the event were noted composer and conductor Howard Cable and Mr. Jack Long of Long and McQuade Music. So far we don't have any details on events proposed for this campaign, but look forward to receiving them in the coming weeks.
In a recent conversation with Chris Butcher, leader of the Heavyweights Brass Band, he told me of an interesting event taking place this month. They are inviting anyone who plays brass instruments or saxophones to join in a Street Brass performance on Thursday March 6 at 6:pm. By the time this issue is off the press there will have already been one rehearsal, with a second one scheduled for Saturday March 1. Rehearsals and the performance will all be at Lula Lounge, 1585 Dundas St. W. If interested in joining in the fun, email Chris at chris@chrisbutchermusic.com for details.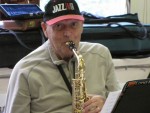 Al Cheslo. It is with deep sorrow that I must report the passing of another stalwart from the community band scene. As is so frequently the case in the band world, I can't recall when I first met Al Cheslo. When one joins a group it usually takes some time to get to know those other members who don't play in one's section. I just know that Al had been in many groups that I have been associated with for over 25 years. In both big "swing bands" and concert bands Al was a regular member. The last time that I spoke with him he mentioned that he was downsizing from a house to an apartment and would miss the following week 's rehearsal. Rather than see him at our rehearsal in two weeks' time, I attended his funeral service. We miss him.
Definition Department. This month's lesser known musical term is: An Achoired Taste: An appreciation of choral music. We invite submissions from readers. Let's hear your daffynitions.
Jack MacQuarrie plays several brass instruments and has performed in many community ensembles. He can be contacted at bandstand@thewholenote.com.