It would appear that, after a few false starts, summer may have arrived. As we view the news of band activities for the next few months, there are all manner of concerts planned by bands throughout Southern Ontario, but they are almost without exception by individual bands.
This is in stark contrast to when I first started in boys' bands. Our summer was filled with parades and many local multiple-band tattoos in surrounding communities. Outdoor band festivals are now few and far between in this part of the world. The most recent such event that I can recall in this part of the country was the Great Canadian Town Band Festival which was held for a number of years, ten years ago or more, in the small town of Orono. Throughout its existence, I was active in this festival. Its demise was not due to lack of interest on the part of participants or audiences. Rather, after a few years the organization and operation became too much for the small cadre of volunteers. Although there was consideration given to moving the festival to another larger community, this never materialized. Whether they are called band tattoos or band festivals, these kinds of outdoor events involving a number of community bands haven't even been relegated to history books. They just seem to have passed into oblivion.
Not only were there tattoos in former days, but there was a wide variety of other outdoor band events, both amateur and professional. I can still remember the fascination of a circus band with a diverse array of performers parading down a city's main street. In fact, for a time, one of my boyhood ambitions was to play in a circus band. It seems that the only large outdoor events with bands to be seen now are those overwhelming halftime shows of American football games with all of the extra non-musical hoopla.
NABBSS: You may recall that at this time last year our household was gearing up for a trip to Halifax and participation in the very first North American Brass Band Summer School (NABBSS). As part of this summer school we were also participants in the 35th Royal Nova Scotia International Tattoo. With many hundreds of professional-level participants from Canada, the United States and several European countries performing for ten days in a packed arena, this event is a far cry from the local amateur tattoos referred to earlier. Even these large-scale events are increasingly few and far between. I have not heard of single such event in Ontario for some years. While we are not able to participate in this year's NABBSS, I am sure that it will be as rewarding as last year's was. The school will run from June 26 to July 8. When I last checked, there were still openings. Inquiries should be addressed to bandsummerschool@gmail.com.
Further Reminiscences: For years a major attraction at the CNE was the featured guest band at the main bandshell. For a few summers I had the pleasure of operating the sound system on that main bandshell. In particular, I had the privilege of working for two weeks with Major F. Vivian Dunn, later Sir Vivian Dunn. Prior to every concert of the Band of the Royal Marines Plymouth Division, he would discuss all of the music to be performed and just which instruments were to be given proper microphone pickup.
By a somewhat strangely routed train of thought (but bear with me), this reminds me of a famous but rarely seen ceremony, called Beat the Retreat, the origins of which date back to the reign of James II of England (James VII of Scotland) in the late 1600s, a time when drums were a major means of communicating with troops. It was a time when wars were mostly carried out in daylight hours, and the beating of drums was the signal to retreat at the end of a day's fighting. Over time, beating the retreat became a more elaborate ceremony, where the Captain of the Main Guard would have his drummers beat the signal which would then be repeated by drummers of each regiment. Many years later, of course, armies obtained more sophisticated means of communicating, but by then Beating the Retreat had been established as an important ceremonial event.
The Royal Marines in particular have retained the ceremony, along with saluting their ceremonial head who is bestowed with the title of Captain General. Most recently that has been His Royal Highness Prince Phillip, Duke of Edinburgh. Every three years the Massed Bands of Her Majesty's Royal Marines, with some 200 musicians on parade, perform their Beat the Retreat ceremony at London's Horse Guards Parade in celebration of the birthday of their Captain General.
That is where Major Dunn comes in again! The year after he and his band performed at the CNE bandshell, he wrote The Captain General march to honour then Captain General, His Majesty King George VI. Three years ago I had the pleasure of reviewing Saeculum Aureum, a 2CD set, performed by The Band of The Royal Regiment of Canada. The Captain General, a stirring march with amazing counter-melodies, was one of the finest selections on that recording.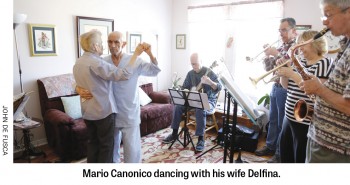 Mario Canonico: The community band world has lost another of its most dedicated members. Mario Canonico, a longtime member of the Newmarket Citizens Band, passed away May 16. Born in the Aosta Valley in the northwestern part of Italy, Mario started his musical adventure on violin at the age of nine. He began playing saxophone in his early 20s and soon added the clarinet. From Italy the family moved to Ecuador for a few years before coming to Canada in 1967. Settling in Montreal, he worked as a barber during the week and spent his weekends as a jobbing musician playing a wide variety of events including weddings and bar mitzvahs. Moving to Newmarket in 2000, he soon had a regular spot in the clarinet section of the Newmarket band. Until about three months ago he was playing regularly in three other musical groups besides the Newmarket band, including a small ensemble called North of Dixie. In addition to music and family he had a passion for cycling, averaging 50km per day. His last bicycle ride was on a warm sunny day last October at age 82. Just a few weeks ago the members of North of Dixie went to his house to entertain him. Although gravely ill, Mario danced up a storm with his wife, Delfina, and with his daughter and granddaughter. This photograph was taken on that day by John De Fusco.
Coming Concerts:
June 4 at noon the Encore Symphonic Concert Band will present "In Concert: Classics and Jazz" at the Wilmar Heights Centre, 963 Pharmacy Ave., Scarborough.
June 6 at 7:30 the Barrie Concert Band will present "Let's Celebrate Barrie!" a multimedia concert celebrating Barrie's history at Hi-Way Pentecostal Church, 50 Anne St. N., Barrie.
June 12: A few months ago I had the pleasure of attending the premiere concert of the Toronto Concert Band. To wind up their inaugural season they will be returning to the excellent performance venue of the Glenn Gould Studio on Friday, June 12, at 7:30pm. Since their very first rehearsal less than nine months ago, founding conductors Ken Hazlett and Les Dobbin have set a high standard. This season-ending concert will feature an eclectic mix, from Camille Saint-Saëns' Carnival of the Animals to Warren Barker's Selections from Les Miserables with many challenging numbers filling out the program. The band's tag line "We Love to Play!" should be spelled out musically at this concert.
June 14 at 7pm the Strings Attached Orchestra will be presenting their year-end concert at the George Ignatieff Theatre, 15 Devonshire Place (just southwest of Koerner Hall). Among other things, they will be performing the orchestral premiere of Montreal a short work by former OECD head and Pierre Trudeau-era cabinet minister Donald Johnston. Also on the program will be Vivaldi's Concerto Grosso Op. 3 No.11 with soloists from within the group.
These are a few community ensemble events where we received some program details. There are too many more than can be mentioned here. Please see the listings section for the times and locations of these many other events.
Definition Department
This month's lesser known musical term is: rubato: a cross between a rhubarb and a tomato. We invite submissions from readers. Let's hear your daffynitions.
Jack MacQuarrie plays several brass instruments and has performed in many community ensembles. He can be contacted at bandstand@thewholenote.com.