In last month's issue I referred to a number of concerts by small ensembles. Since then I had the pleasure of attending a very different program by small ensembles. In the most recent of their intimate offerings, the Naval Club of Toronto hosted a return of members of the band of HMCS York. This band, one of several reserve force bands in Toronto, has amassed quite a talented group of musicians. Time was when the membership of such reserve bands constituted a mix of skilled amateur members along with one or two school music teachers. Today this band can boast that close to 75 percent of their members hold degrees in music, including some doctorates.
The program opened with a duet for alto trombone and harpsichord by an early composer that I had not heard of, a predecessor of Leopold Mozart and Michael Haydn. The trombonist, Leading Seaman James Chilton, holds a Ph.D. from the University of British Columbia and is one of a few who are introducing this instrument to their audiences. Three hundred years ago the alto trombone, and its larger brother the tenor trombone, enjoyed significant status as solo instruments. However, the use of trombones as solo instruments declined for almost 200 years. Beethoven didn't use trombones in his symphonies until his Fifth, where they appear in the final movement.
In the 20th century the tenor re-emerged as a solo instrument, but with a few exceptions, the alto has languished to this day. It was great to hear of its return. (On my return home after that performance, I rushed to play a CD of concertos for alto trombone and orchestra by Leopold Mozart and Michael Haydn.)
The rest of the program consisted mostly of performances by various combinations of brass instruments. A trombone quartet chose lesser known works by 20th century composers including American Arthur Fracenpol and Briton Malcolm Arnold. A quintet brought us back to the present with their version of When I'm 64.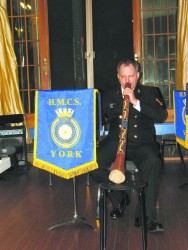 Other than one oboe solo, it was almost all brass. I said "almost" because L.S. Chilton suddenly digressed from his various sizes of trombones to introduce an original composition, his Opus 1 for Solo Didgeridoo. The possibility of a naval musician in full uniform performing on such an instrument in public was beyond my wildest illusions, but there he was. For those not familiar with the construction or origins of the didgeridoo, it is a traditional instrument made by Aboriginal craftsmen in Arnhem Land in Northern Australia. While this was a factory-made instrument, the original native Australian instruments are made from the trunks of eucalyptus trees, the cores of which have been hollowed out by termites. He hopes to get one of those "termite crafted originals" in the future. While I once had the opportunity to make sounds on a didgeridoo, I can't say that I ever came close to playing anything resembling music on it.
Traditionally, in concerts, naval bands always play their official "regimental march" Heart of Oak. This time, as a bit of a spoof, all of the participating musicians treated us to a vocal rendition of that in four-part harmony.
Since the concert at the Naval Club had such a significant trombone component, this might be a good time to recount a story of a special trombone in my life. Many years ago, having played a tenor trombone for most of my life, I suddenly had the urge to try a bass trombone. So I visited a dealer to inquire about such an instrument. The price of the new Vincent Bach instrument that I tried was beyond my budget at the time and I left empty-handed. That same evening, during a rehearsal, a total stranger who had been sitting behind the trombone section leaned over and whispered in my ear, "Do you know anyone who would like to buy a bass trombone?" I almost jumped out of my skin. When I asked for details, the gentleman handed me a piece of paper with his name "Tommy" and suggested that I phone him.
The next day I visited him. There it was; a genuine New York Bach bass trombone. For those not familiar with the Bach instruments, Vincent Bach was an Austrian trumpeter who moved to New York shortly after the First World War and set up shop to make trumpets and trombones. In later years he moved to Mount Vernon and subsequently sold the business, whereupon the operation was moved to Elkart, Indiana. Those early New York and Mount Vernon instruments are coveted by brass musicians for their craftsmanship and tone quality. The asking price was surprisingly low. Tommy explained that he had suffered a stroke and could no longer play. He just wanted the horn to have a good home. (Some time later he confessed that he had an ulterior motive. Another individual in the same trombone section, who we'll call Joe, had been hounding Tommy to buy the trombone. Tommy couldn't stand Joe and wanted the instrument to be played beside him where Joe could eat his heart out.)
Over the years I have wondered about the history of the instrument. There is still the name Harry Stevenson — bass trombonist for the Toronto Symphony for many years — marked on the inside of the case. A few weeks ago I had the opportunity to learn a bit more about my treasure. Tedd Waggoner, the Bach instrument specialist from Elkart, was giving a presentation on the evolution of the early Bach instruments at Long and McQuade in Toronto. I took my instrument to show to him. In this presentation he pointed out how Vincent Bach had maintained meticulous records of every instrument produced with all specifications, dates and names of customers. Waggoner had been able to convince the current management to retain these individual record cards on all of the early instruments. Shortly after his return to his office I received a copy of the card with all of the details. It was completed on April 22, 1941, and sold on January 16, 1945, to a Colin Campbell in New York. How and when did it get from New York to Harry Stevenson? Were there other owners? I feel like a genealogist trying to trace the ancestry of my treasure. Are there any readers who might shed some light? For the benefit of those who might wish to own such a horn, I already have a list of trombonists hoping to be mentioned in my will. Finally on the topic of trombones, the Sheraton Cadwell orchestras are looking for one or two experienced trombone players to join them. For details visit their website at sheratoncadwell.com.
So much for some of the musical events in my life these past few weeks. What is on the horizon for the summer months? Since there will not be another issue of TheWholeNote until September, I set out to determine what would be happening in the community music world over the next three months. With a few exceptions, the community bands in this part of the world served up a deafening silence as far as news of their activities was concerned. With a dearth of information at hand, I turned to band websites to see what they were reporting. In one case, the band in question greeted me with the news of their next great performance in October 2012. Another gave all sorts of detail about their forthcoming trip in September 2010. A third gave a list of every performance in the past three years, but nothing about the future. Come on folks, tell us what you are doing.
Here's some of what we do know. Steffan Brunette and the summertime-only Uxbridge Community Concert Band will be performing their usual two concerts plus a ceremony with the local branch of the Royal Canadian Legion. The Festival Wind Orchestra will feature all movie music in their spring concert on June 22 at 2pm, at Crescent School. The Newmarket Citizens' Band has a busy schedule, including the Veterans Day Ceremony at the Newmarket Cemetery (June 9 at 1:30pm), the Aurora Canada Day Parade (July 1 at 10am), the Newmarket Canada Day Fireworks Concert (Richardson Park, July 1 at 7pm), the Orillia Aqua Theatre (August 4 at 6:30pm) and a Clarington Older Adult Association concert (September 22 at 12 noon). The Concert Band of Cobourg is offering a Coronation Concert Celebration series with performances in Toronto June 2, in Kingston June 9 and in Cobourg June 15. As in previous years there will be a series of regular concerts by several bands at the Orillia Aqua Theatre in Couchiching Beach Park and on the Unionville Millenium Bandstand.
While it is definitely not a community band, there is a new small ensemble in Toronto that warrants some attention. Conductor Simon Capet is back in town with a new chamber orchestra with the very musical name Euphonia. There will be two main differences in their performances. They will be performing in small, non-traditional venues and will not be wearing any kind of formal attire.
Rather than viewing these small venue performances as an innovation, the members of Euphonia consider it a return to the past. As Capet points out, public concerts in the days when these composers presented their works were not in large austere concert halls. They were lively social gatherings in the taverns of their day, where the musicians were surrounded by their audiences as they enjoyed refreshments and conversations along with the music. As in those early days, the musicians will be in the centre of the room, not up some distant stage remote from their audience. Tentatively, these concerts will be on the second Monday of every month, with their next concert, consisting of music of Mozart, C.P.E. Bach and Haydn, at the Lula Lounge June 10 at 8pm.
Turning to happenings in September, it seems appropriate to return to naval matters. On the weekend of September 14 the Concert Band of Cobourg, in their role as the Band of Her Majesty's Royal Marines Association (Ontario), will be travelling to Plattsburgh, New York. For several years now the band, and a considerable group of friends, have made an annual trek to participate in ceremonies commemorating the Battle of Plattsburgh on Lake Champlain. Yes, there was a naval battle on Lake Champlain with no fewer than 30 ships involved. It took place on September 11, 1814, just before the signing of the Treaty of Ghent, and was the final battle of the War of 1812. I might just make the trip there myself this year.
Definition Department
This month's lesser known musical term is Antiphonal: referring to the prohibition of cell phones in the concert hall. 
Jack MacQuarrie plays several brass instruments and has performed in many community ensembles. He can be contacted at bandstand@thewholenote.com.