It's that time of year again. As of this writing there has only been one light dusting of snow, but the merchants have been promoting their super special Christmas offerings since sunrise on the day after Halloween. Unlike some other times of the year, when we are on a quest for community ensemble news, our mail bag is filled to the brim with information on Christmas concerts and other initiatives. By the time this issue is off the presses, alas, some of these will have already passed into the history books. Having said that, whether over or just ahead, several of these offerings represent a pronounced shift in the "same old" repertoire selected for the Christmas season, and are therefore worthy of comment.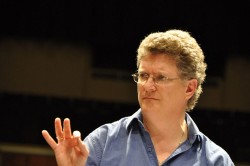 The Repertoire Bandwagon: While there are still some Christmas carols and more modern fare like Rudolf and Frosty the Snowman in these programs, there is much more depth in many, including transcriptions from the baroque and classical periods. There are also featured soloists on less likely instruments. Here are three early examples of this trend, one just over, two just ahead: thePlumbing Factory Brass Band (PFBB) from London (November 28), the Markham Concert Band (December 2)and theWellington Winds from Waterloo (also December 2). If their offerings are any indication of things to come in the community band world, they are most welcome. Bring on the seasonal concerts.
The feature number of the Markham Band's December 2 concert is a modern concert band arrangement of The Nutcracker, complete with Kate Kunkel as guest harpist. If you are in a band looking for new repertoire, this arrangement is worthwhile, but not for the faint of heart. If the band doesn't have at least one competent bassoonist, don't consider this. The Markham Band also has the brass quintet from the Navy's HMCS York Band as guests.
Rather than produce a Christmas concert per se, The Plumbing Factory's director, Dr. Henry Meredith, has continued with his approach of thematic programming with "Dances of Many Times and Places." Like one of his previous offerings of marches through the ages, this November 28 program featured a broad spectrum of dances. On the fast-paced side it included Smetana's Dance of the Comedians and Manuel de Falla's pyrotechnical Ritual Fire Dance, along with Rossini's tarantella, La Danza, Chopin's "Minute" Waltz, and Bizet's Farandole from L'Arlesienne Suite #2. For a totally different perspective on "the dance," The Plumbers also premiered two Victorian era Canadian dances with Ontario connections: The Burlington Polka and the Cayuga Two Step, published as solo piano editions in 1851 and 1906 respectively, and heard for the first time in over 100 years as arrangements for brass band by PFBB tuba player, Dave Pearson. One of their soloists was euphonium player, Terry Neudorf who brought his well-travelled vogelJoy ensemble to accompany his variations on My Grandfather's Clock.
For their program on December 2 at 3pm, Wellington Winds have decided on a significant component of baroque music, but have chosen selections that are still seasonal. These include the Alfred Reed arrangement of Bach's Wachet Auf, Phillip Gordon's version of a Corelli Concerto Grosso, a Vivaldi Concerto in D major for Guitar and a Scott Amort transcription of Weber's Concerto in F minor for Clarinet. More contemporary seasonal works include Holst's Christmas Day (original for brass), the Robert Smith arrangements of Holst's In the Bleak Midwinter and Vaughan Williams' Fantasia on Greensleeves, and James Curnow's Christmas Fancies.
More than a concert: Although we are looking forward to a concert of excellent music, the Wellington Winds afternoon will be much more than a concert. It will be the launch of a major initiative; the first of its kind that we have heard of anywhere in Canada. The band will be previewing their DVD/YouTube channel/online teaching guide project. Ultimately they hope to have as many as 100 Canadian band works on the site, some as full video, but most as sound only clips. The intent and hope is that this project will be a resource for all band people in Canada. They hope that the whole project will be as useful as possible for high school band teachers to engage their students in the conversation about making music performance a permanent part of their lives.
This project was achieved with the aid of significant public funding from the Ontario Trillium Foundation. Hopefully, in the not too distant future, the foundation will see that not just the Wellington Winds, but all of our community bands, deserve similar funding from the foundation.
Our hats are off to the Wellington Winds for this remarkable initiative. I am looking forward to producing a comprehensive review of this project in the next issue of The WholeNote, after I have seen the presentation at the concert, watched the DVD, seen some of the YouTube content and browsed the teaching guide. In the meantime, ask Mr. Google to take you to the Wellington Winds home page, watch an interview with Howard Cable and sample some of the content already there.
Of the other concerts planned for the holiday season, that of the Festival Wind Orchestra in Toronto offers another departure from what we normally expect. Keith Reid, their conductor tells us that the theme is "Russian Christmas Music." Again we have Tchaikovsky's Nutcracker Suite. Their solo feature will be Rimsky-Korsakov's Variations on a Theme of Glinka with Katrina Liddell as oboe soloist.
Rather than break with tradition, the oldest of the bands that we heard from, the Newmarket Citizens Band, is carrying on with a long-standing tradition that most "town bands" have abandoned. They are performing in no fewer than four Santa Claus parades and are also playing three concerts for residents of retirement or long term care facilities. Their commitment to these parades is strong enough that the band owns a complete set of well-insulated winter uniform jackets.
In the new year: After a recent recital by flutist Christopher Lee, I had a fascinating conversation with his accompanist, Simon Capet. In the months ahead this talented accompanist and conductor will be a globetrotting ambassador of music, conducting such groups as the Orchestra of Light and Hope in Cairo where all of the musicians are blind women, or the Calcutta Chamber Orchestra where all members are men from a single orphanage. While this certainly does not qualify as community banding per se, it definitely qualifies in the category of bringing communities and music together. Rather than attempt to do justice to this amazing venture in bringing peoples around the world together through music, I suggest a visit to Simon's website: kicksimon.com. Learn about his plans for this year in Ghana, Egypt and Sri Lanka.
We rarely see tangible recognition of the many ways in which a local band may serve its community. I was fortunate enough recently to see tangible recognition of such service in a form one does not usually expect. At their annual Remembrance Day dinner, the Uxbridge branch of The Royal Canadian Legion did just that by inviting Steffan Brunette, conductor of the Uxbridge Community Concert Band as their guest speaker.
Back on the repertoire front again, I would like to report on my discovery of a daunting work for trumpet soloist. During a visit to America in the late 1800s, Jacques Offenbach wrote his American Eagle Waltz. Although originally written for trumpet and orchestra, there are now arrangements on the market for band as well. I wonder if Herbert L. Clarke might have performed this one. If your band is looking to shake up your trumpet section, this number should do it.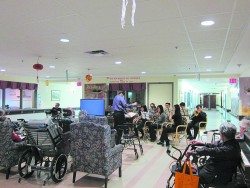 Other bands: The Brampton Concert Band will perform their concert "Christmas at The Rose" December 8. The Milton Concert Band will present their concert, "Home for the Holidays," at the Mattamy Theatre in Milton on December 8 at 8pm (not in the listings) with a special performance of Twas the Night Before Christmas. They have also announced that their conductor Joseph Resendes is taking a leave while he assumes new duties at McMaster University for the coming year. During that period, the band's assistant conductor, Sheena Nykolaiszyn will take over the baton.
Among the newer bands to appear on the scene in recent years, Resa's Pieces is certainly prospering with over fifty regular members. However, Resa tells me that they could use another trombone and euphonium as well as some extra percussion including timpani.
Having not heard from them in a long time, it was good to hear that the Scarborough Society of Musicians have embarked on their fifth season. Formed by a small group of high school graduates who "wanted to stay involved in music and ensure an opportunity exists for new grads to continue exploring their talents," they expect to play a number of retirement home concerts in the coming months. If interested, visit their website at www.continuingmusic.ca. Unfortunately, some of the press releases and posters sent to us by these groups were damaged and unreadable. Check the listings section for more details.
Argos: As I am writing this column, the 100th Grey Cup game and its festivities are dominating the news in Toronto. The Argonauts are in the game, but there is no official Argonaut band for the pregame or halftime shows. Few Argo fans are aware that the team did have its own official 48-piece professional band from 1957 to 1967. In fact, when I telephoned the Argonaut office not long ago, nobody could find any record of such a band in the team's archives. The band played for all home games and some parades, but never got to play for a Grey Cup. How am I so sure? I played in that band for all ten years of its existence.
Clarification: On another front, my memory has recently been challenged. In the March 2010 issue of this publication I referred to an early wax cylinder recording of a conversation reputed to be between Thomas Edison and Johannes Brahms. Recently I have been taken to task by a reader who questions the existence of such a recording with the comment: "There is no evidence, apparently, that Edison and Brahms ever met." He has thrown down the gauntlet and asked that I now substantiate my statement in that 2010 column with proof. He states: "A statement that does not stand up to inspection must not remain unchallenged." Since all of my old cylinder recordings fell under my son's jurisdiction a few years ago, they are not right at hand for me to check. If such a recording might be as rare and valuable as the reader suggests, I had better get after my son to track down all of those old cylinders. They could be worth a princely sum.  
Jack MacQuarrie plays several brass instruments and has performed in many community ensembles. He can be contacted at bandstand@thewholenote.com.