I'm going to start this month's column with four only somewhat related anecdotes, then, with luck, connect the dots between them.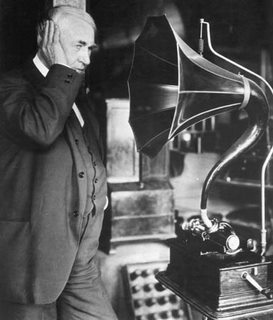 In December 1877, a young man walked in to the office of the Scientific American magazine, and placed before the editors a small, simple machine about which very few preliminary remarks were offered. The visitor, without any ceremony whatever, turned the crank and, to the astonishment of all present, the machine said: "Good morning. How do you do? How do you like the phonograph?" The young man was Thomas Edison.


One of my prized possessions is an old Edison cylinder phonograph with a few cylinders. One of those cylinders contains a conversation between Edison and Johannes Brahms where Brahms asks Edison about how his new invention might influence music.(Little could either have known that in just a few years, as recording technology advanced, performer and listener could be separated by time and distance, and a single performance could be heard many times at many different locations.)

Twenty-nine years after Edison introduced his phonograph, in December 1906, a Canadian, Reginald Fessenden, was the first to transmit sound by radio. In the world's very first radio broadcast, Fessenden played his violin to the astonishment of the crews aboard ships in the Atlantic and Caribbean. The age of broadcasting had begun.

In a recent broadcast of the CBC Radio programme "The Sunday Edition," host Michael Enright had as his guest music guru Robert Harris, who was there to "teach us how to listen to music without straining ourselves." The Enright programme was interesting in many ways. One idea, though, made me stop in my tracks: it was when Harris suggested that we consider all of the elements making up the "infrastructure" of a modern concert performance.

Some are obvious: performers, conductor, composers; repertoire; presenter; venue. But what of all the other less obvious factors? How did each of the composers on the programme come to be a composer, for instance? Childhood ambition to compose? Experience as a performer? How did their first musical thoughts gel, evolve and end up on a printed page? And speaking of the printed page, how many people, over a period of several centuries were involved in the development of the notation system for Western Music that is now universally used? For that matter, where would music performance be today if the art of printing had never been invented?

And what about the instruments? The trombone was certainly the first fully chromatic member of the brass family of instruments, and is generally considered to be the oldest instrument, in unchanged form, of the modern symphony orchestra. All of the other instruments in a modern symphony orchestra, including the strings, have undergone varying degrees of change over the past two centuries.

In short, once we start, we can't possibly count the number of individuals who have directly or indirectly had an influence on any given performance we hear or play in.

Now, let's look back over the past one hundred plus years since Edison and Fessenden. Since those early days, sound recording devices and media have become more compact and much more portable. The media have evolved from cylinders through 78 rpm records, LPs, reel-to-reel tapes, cassette tapes, eight-track tapes to CDs, and now to various forms of solid state gadgets like MP3 players and iPods. Similarly, broadcasting has changed considerably. Compare the Metropolitan Opera's "revolutionary" Texaco live radio broadcasts to their current HD "Live from the Met" telecasts, and you'll see what I mean.

Another example: look at the evolving major role of electronics in music in recent years. Some years ago MIDI appeared on the scene to harness the power of digital computers. This was closely followed by various music notation programmes to minimized the drudgery of writing out parts by hand. Then, of course, the ubiquitous internet is having a profound influence on many aspects of music. Whether it be downloading actual music, looking for publisher's catalogues, purchasing instruments, researching composers and their works, reviewing performances, or visiting band or orchestra websites, the internet has become an essential part of our musical toolbox.

The point? Rather than trying to experience music as something distinct from the social forces shaping and reshaping it – what Harris might call "straining ourselves" – we should enjoy the way music performance reects our changing world.

Which brings us to requesting your comments. How is technology impacting on the bands or orchestras you are interested in? What can (and should) band and orchestra websites set out to do, beyond such obvious things as giving you the name of the group, the conductor, their concert schedule, rehearsal time and location? From the perspective of the music you love to play or listen to, what are the history-making changes now getting under way?

Coming Events

The Etobicoke Community Concert Band, John Edward Liddle, Music Director, present "That's Entertain ment" featuring special guest, Juno-nominated jazz pianist Chris Donnelly. Etobicoke Collegiate Auditorium, 86 Montgomery Road.

The City of Brampton Concert Band with music director, Darryl Eaton, will close its 125th Anniversary Concert Series with "2010: A Space Odyssey" at the Rose Theatre.

The Hannaford Street Silver Band pre sents: "Trumpet Spectacular" with trumpet soloist Allen Vizzutti.

The Plumbing Factory Brass Band, Henry Meredith, Conductor present "Heroes – ordinary and extra ordinary." Byron United Church, 420 Boler Rd., London, Ontario.

Jack MacQuarrie plays several brass instruments, and has performed in many community ensembles. He can be contacted at: bandstand@thewholenote.com.