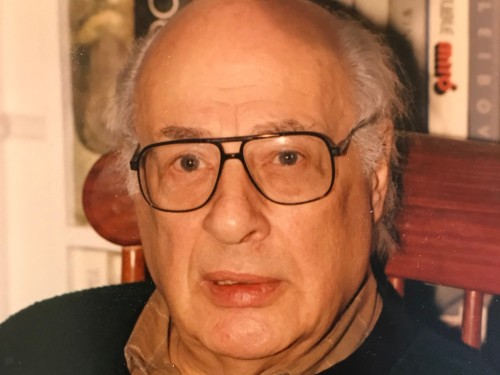 A few weeks ago, when I first learned of the passing of trombonist Murray Ginsberg, I considered the possibility of writing an obituary. Although I had met Murray on a few occasions some years ago, I didn't feel that I knew him well enough to do justice to such a project. I decided to do some research and come up with a more knowledgeable account of his contributions to Canadian music over his 70-plus years of performing.
Born in Toronto on October 4, 1922, his family history is worthy of a book by itself. In one of the stories which I have received there is an account of how his parents got to Canada. Murray was the son of immigrant parents from Russia and Lithuania. Were it not for a strange quirk of fate, the Murray Ginsberg story would never have happened. In 1912, having made their way across Russia and Europe, his parents worked their way through Holland and eventually arrived in Liverpool. There they boarded a ship headed for North America and a new life. Along with 300 other immigrants, they were simply placed in the hold of the ship for the trip. However, the ship was overbooked and they were ordered off. They had to wait for another one. As for that quirk of fate, the ship which they were forced from was the Titanic. We all know what happened to that ship.
Murray first discovered the trombone in the late 1930s. In January 1937, at the age of 14, he had his first formal lesson with Harry Hawe, then principal trombonist with the Toronto Symphony Orchestra under Sir Ernest MacMillan. More about his amazing musical career later. As his health failed in his mid-80s, Murray moved to the Veteran's Wing of Sunnybrook Hospital. In more recent years his dementia gradually worsened. Surrounded by his family, Murray left us as Blue Skies was being sung to him on October 18, 2018 at age 96.
Now for more about Murray's musical life. Not that long after his first trombone lessons at age 14, he became serious about music. Within two years he was playing professionally, even though he was still a student at Toronto's Central Technical School. Then, on August 20, 1942, at age 19, Murray joined the army, and was soon playing in Canadian Army Bands to entertain the troops in Europe.
After the war, he was back in Toronto, pursuing an amazingly varied musical career. He played under diverse conductors, performed on weekly variety shows, and was the house trombonist for CBC's The Music Makers. At some point he joined the Toronto Symphony Orchestra and continued with the TSO position for almost two decades. Elsewhere, he played under many conductors in a wide range of musical performances from highly classical to "low down jazz." As one person remarked: "He played classical music by day and jazz by night, with The Murray Ginsberg Orchestra." For many years he was the Toronto Musicians Association's business representative and later wrote a book called They Loved to Play in 1998.
I have been told that, when Murray was in a singing mood, his favourite song was When the Saints Go Marching In. As someone said after his passing: "Look out heaven – you just got one more Saint who's marching in."
Now for a couple of my own personal reminiscences: one of Murray's key memories was about his first trombone lessons with Harry Hawe at the age of 14. Some years later, in the late 1940s, Harry Hawe was my trombone teacher. I remember well Harry telling me how proud he was of a couple of his students in particular. Murray and Teddy Roderman, the apples of his eye, both spent years in the Toronto Symphony. The last time I saw Teddy Roderman, I happened to bump into him on the street. At that time his health was failing and he was going South with his sailboat. As for Murray, I don't remember where or when we last met, but I do remember receiving a copy of his book shortly after it was published.
Well, a few days ago, on one of the days when Mother Nature decided to bless us with a stay-at-home white day, I was poking around through my book collection when out popped They Loved to Play subtitled Memories of the Golden Age in Canadian Music. There, on the inner title page in Murray's handwriting were the words: "To Jack MacQuarrie, December 16, 1999. From one trombone player to another, all the best for the future."
Truth be told, I don't recall any of the details about that meeting.
Shortly after rediscovering Murray's book I came across the May 1994 edition of The International Musician, the monthly journal of the American Federation of Musicians. That was where Murray wrote his regular column Canadian Scene. Here again a memory was re-ignited. His lead story was that the 1994 JUNO Award had gone to the Rankin Family, and that the big event on the horizon was the 100th anniversary of the opening of Massey hall on June 14. That means that we will celebrate Massey Hall's 125th birthday with the building closed, anticipating how it will look after its major renovations.
A few other glimpses into the 272-page treasure trove of anecdotes contained in The Golden Age in Canadian Music. One of the first to catch my eye was about Eddie Graf and his wife Bernice (Bunny). You may remember I wrote a bit about Bunny's birthday party in my column in the October 2018 issue of The WholeNote. Well, in Murray's book I learned that, when Eddie Graf married Bernice O'Donnell at 9am on New Year's Day 1945. Murray was their Best Man. They had chosen to be married "at the earliest hour on the first day of a new year when the promise of a long life filled with joy and happiness was strongest." That was the case until Eddie passed away a few years ago.
Earlier I mentioned two of Harry Hawe's protégés, Murray and Teddy Roderman. There they are in his book, together in a photo, two teenagers, playing side by side in a group called The Modernaires at the Masonic Temple at Yonge and Davenport in Toronto. It was 1942, Murray was 19 and Teddy was 17.
One of the most hilarious of the anecdotes in the book is about orchestra leader Luigi Romanelli. For many years Romanelli's orchestra was the feature in the Crystal Ballroom of the King Edward Hotel in Toronto. In this particular event Romanelli and his orchestra were booked to provide the music for the introduction of new model cars by General Motors in Oshawa. As was the custom, this was a major event, with politicians, corporate executives and entertainment personalities all dressed in their finest formal attire. The orchestra was onstage behind the curtain. When the house lights dimmed, the orchestra struck up a fanfare with Romanelli dressed in full formal attire with his long-tailed coat almost touching the stage. As the roll-up curtain began to rise it caught his coattail and wound it up with the curtain. Soon, much to the amusement of all of the dignitaries, he was dangling by his coattail a few feet above the stage. Needless to say, the orchestra members joined in the hilarity. When he got back down on the stage, he ordered all of the orchestra members to pack up and leave the theatre immediately.
Recent Events
With the almost unending bad weather, my attendance at concerts so far has been limited, but early in February I did manage to get to the Oshawa Civic Band's "Polished Brass" concert. Unfortunately the terrible driving conditions kept many people away, but those who braved the ice and slick roads were treated to quite a variety of music. Except for selections from Mary Poppins and the Phantom of the Opera, the works were unfamiliar to me. That said, music director Rita Arendz led us through a fine evening of challenging music in the traditional all-brass band style. The Naval Band of HMCS York took their small ensembles to the Naval Club of Toronto again this year, but freezing rain and ice pellets kept me at home 60 kilometres away. I have heard that they provided one of their usual fine varied concerts.
BANDSTAND QUICK PICKS
MAR 2, 7:30PM: The Barrie Concert Band presents "Last Night at the Proms" featuring. Elgar's Pomp and Circumstance March No.1, Vaughan Williams' Folk Song Suite; Holst's Nimrod from Enigma Variations, and other works. Collier Street United Church, 112 Collier St., Barrie.
MAR 3, 2PM: The Markham Concert Band will offer "Let's Dance! Ballet, Waltzes and Swing" including Big Band Polka, El Bimbo, Flunky Jim and Waltzes from Der Rosenkavalier. Flato Markham Theatre, 171 Town Centre Blvd., Markham.
MAR 3, 3:30PM: The Wychwood Clarinet Choir will have "CC at the Oscars" with Gershwin's An American in Paris; Mozart's Adagio from Gran Partita; Bernstein's Tonight from West Side Story; Arlen's Somewhere Over the Rainbow; and Loewe's I Could Have Danced All Night. Michele Jacot, conductor. Church of St. Michael and All Angels, 611 St. Clair Ave. W. Toronto.
MAR 31, 2PM: Resa's Pieces Concert Band, reaching out well beyond their usual Toronto locale, travels to St. Catharines for a Sunday concert. We have no details about repertoire yet.
Jack MacQuarrie plays several brass instruments and has performed in many community ensembles. He can be contacted at bandstand@thewholenote.com.