Last night, as I drove home after a rehearsal, I heard on the radio to expect a once-in-a-lifetime event at precisely 11:15pm – the most spectacular meteor shower in over 30 years. As I looked out of the window, though, I was barely able to see the road in front of me, through the dense fog. Now, sitting at the computer, staring at the screen, I am dealing with a dearth of information, unusual at this time of year, about happenings in the band world. Usually at this time of year, I would expect to receive quite a quantity of information on Christmas concerts, festive-season events or holiday shows. A temporary blip perhaps, or maybe just a sign of the busy times we live in. Since I can't write about what I haven't been sent, though, it gives me permission to write about what I like.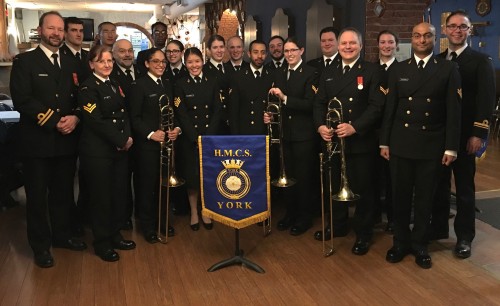 Speaking of signs of the times
At a recent concert of the combined bands of HMCS York from Toronto and HMCS Star from Hamiton, I was stunned to see Lieutenant Commander Jack t'Mannetje sitting in the audience rather than on stage conducting. I then learned that Jack, who has been the Director of the York Band for many years, has been promoted. He is now executive officer of HMCS York, Navy lingo for second-in-command. It's rare to see a military band conductor promoted to a position of command. Congratulations, Jack. As for the duties of band director, that falls to longtime band member, chief petty officer Maggie Birtch. Again, congratulations to Maggie.