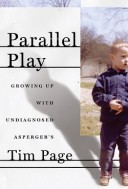 Parallel Play: Growing Up with Undiagnosed Asperger's
by Tim Page
Doubleday
208 pages, photos; $32.00
When music critic Tim Page was forty-five years old, he was diagnosed with Asperger's syndrome, a form of high-functioning autism. Suddenly, problems that had plagued him since childhood became understandable. "My pervasive childhood memory is an excruciating awareness of my own strangeness," he writes in this memoir. Page is an elegant writer, with a delightfully sardonic sense of humour. But it's his probing honesty that makes Parallel Play so affecting.
At the same time, his memoirs provide insight into the relationship between talent and mental illness. As well as being difficult as a kid, Page had been precociously talented. He excelled as a pianist, composer, film-maker and writer, with a phenomenal memory and a disconcerting wit. Role-models like his grand-mother's tenant, the music critic Alan M. Kriegsman, steered him into writing about music.
Some of the most interesting passages here deal with Page's relationship with Glenn Gould, whose writings he collected after Gould's death. He talks about their friendship. But he doesn't discuss Gould's own posthumous diagnosis of Asperger's. I wonder whether Page and Gould ever recognized each other as suffering from the same condition.
Page, who now teaches journalism, is an uncommonly sensitive music critic, and his two volumes of criticism, Music from the Road (Oxford) from 1992 and Tim Page on Music (Amadeus) from 2002 are still worth reading. In sharing his experiences with Asperger's, however retroactively, he opens the question of how much this syndrome affected his reviews. Discussing Steve Reich's Music for 18 Musicians, he writes, "Today, I find myself wondering if I would have responded so profoundly to this starkly reiterative, rigidly patterned music had I not had Asperger's syndrome."
In any case, the role of Asperger's in making him who he is simply cannot be determined. He writes, "I wouldn't wish the condition on anybody - I've spent too much of my life isolated, unhappy and conflicted – yet I am also convinced that many of the things I've done were accomplished not despite my Asperger's syndrome but because of it." This is a brave book. I am looking forward to its sequel.