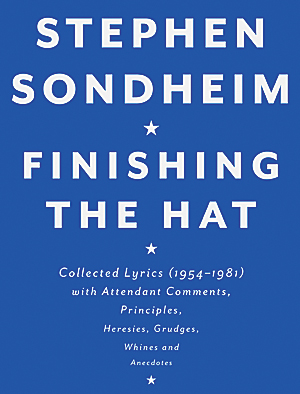 Finishing the Hat
by Stephen Sondheim
Knopf
478 pages, photos; 46.00
When songwriter Steven Sondheim turned seventy, he made a list of his favourite songs written by other song-writers. He called it Songs I Wish I'd Written (At Least In Part). This year, for his eightieth birthday, he has put together this collection of his own songs, or at least the lyrics. This includes lyrics for his own shows like A Little Night Music, Sweeney Todd and A Funny Thing Happened on the Way to the Forum, as well as shows from earlier in his career when when he worked with composers like Leonard Bernstein for West Side Story, and Jule Styne for Gypsy.
Between the lyrics for each song he has written, including drafts and alternates, Sondheim adds choice comments about the songs and the shows they're from, as well as the actors, directors and producers who worked on them.  Along the way, he discusses – not uncritically - song-writers of the past. These include his two favourites, Harold Arlen and Jerome Kern, as well as his beloved mentor Oscar Hammerstein II, who became a surrogate father to him.
Sondheim's witty and poignant lyrics make terrific reading. Without the music to share the attention, you really notice how much the expressiveness of his songs is due to his brilliant use of language, especially his intricate and unusual rhymes. Even though songs like Send in the Clowns and I'm Still Here have become standards on their own today, Sondheim emphasizes how important it is for him that his lyrics enhance the dramatic action of the shows they're in. So even one of his favourites songs, Multitudes of Amys, ended up being cut from Company when the story-line was changed.
It's tempting to see Sondheim himself in his characters, with their longings, regrets, and cynicism. But, as Sondheim reminds us, he does not create the characters in his shows – that's for the book-writer. "The only song I've written which is an immediate expression of a personal internal experience is Finishing the Hat," from Sunday in the Park with George. It's a song about artistic expression. But even though he used it as the title of this volume, it's not included here since it's from a show written in 1984, three years after the cut-off date for this collection.
Sondheim's life and work have been extensively documented in books and recordings. His own recorded commentaries featured in the recent revue Sondheim on Sondheim cover some of the same material as Finishing the Hat. But so far, this wonderful book is the closest thing to an autobiography Sondheim has written. Fortunately he promises a second volume.
Stephen Sondheim will be introduced by Des McAnuff and interviewed by Robert Cushman on the stage of the Princess of Wales Theatre on December 6 at 8.00
McAnuff's production of Sondheim's A Funny Thing Happened on the Way to the Forum opens there on Dec. 15
Sondheim's song-list has been published in the new edition of Mark Eden Horowitz's Sondheim on Music (The Scarecrow Press)