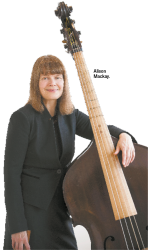 In Virginia Woolf's novel, To the Lighthouse, the painter Lily Briscoe is much troubled when she recalls a young ambitious male academic saying: "Women can't write; women can't paint." Nobody has ever doubted that there have been great women performers. Just think of the concerto delle donne in late 16th-century Ferrara or the girls who were trained at the Ospedale della Pietà in 18th-century Venice, of actresses like Sarah Siddons, Sarah Bernhardt and Eleanora Duse or dancers like Anna Pavlova. But the ability of women to become creative artists has in the past been questioned. It was sometimes asserted that women could never become great poets since they lacked creative power. I suspect that this attitude goes back to a long discredited physiological theory that held that only men could create, since the homunculus was already present in the sperm and that a woman simply provided a space where the embryo could develop.
Of course, there have been a number of important women composers from Hildegard von Bingen in the 12th century to Germaine Tailleferre and Lili Boulanger in the early 20th and Kaija Saariaho, Sofia Gubaidulina and Ana Sokolović in our time. I also suspect that there would have been others had the intellectual climate been more sympathetic to the female composer. Several women composers have been close relatives of more famous men: Francesca Caccini was the daughter of Giulio Caccini; Clara Schumann was the wife of Robert Schumann; Fanny Mendelssohn was the sister of Felix Mendelssohn; Pauline Viardot was the daughter of Manuel García. As a consequence they are sometimes seen as pale reflections of the male figures to whom they were related.
Sometimes too, a woman may have been content to be a "helpmeet." There are two extant manuscripts of Claudio Monteverdi's last opera, L'incoronazione di Poppea; one of these shows that Francesco Cavalli, Monteverdi's pupil and successor, had made a number of revisions. But two-thirds of the manuscript is in the hand of Cavalli's wife Maria. We know little about her: she was a widow when Francesco married her in 1630; she began copying in 1650 (her hand has been detected not only in the Monteverdi but also in several of Cavalli's own operas); she died in 1652. She must have been musically literate to be able to do this work. Could she have become a composer herself? We shall never know. When Gustav Mahler courted Alma Schindler (who had studied composition with Alexander von Zemlinsky), he insisted that she could not be a composer, as it would be wrong to have more than one composer in the family. Like Maria Cavalli, she became a copyist of her husband's music. (Mahler was to change his mind about Alma's compositions later.)
Alison Mackay has played violone and double bass for Tafelmusik since 1979. For Tafelmusik she has created several highly successful multi-media projects: "The Galileo Project;" 'The Four Seasons;" "The House of Dreams." Her next project is for the Toronto Consort: "A Woman's Life" on May 24 and 25 at 8pm and May 26 at 3:30pm at Trinity-St. Paul's Centre. The program will explore the lives of women composers and singers from the Middle Ages, the Renaissance and the early Baroque. It will feature vocal music by von Bingen, Francesca Caccini and Barbara Strozzi.
Other events: Tafelmusik presents arias and choruses from Handel's oratorios with Sophie Daneman, soprano, and Rufus Müller, tenor, at Trinity-St. Paul's Centre, May 1 to May 4 at 8pm and May 5 at 3:30pm, and at the George Weston Recital Hall, May 7 at 8pm.
The Aldeburgh Connection continues its Britten Festival of Song with "The Song Cycles," with Shannon Mercer, soprano, and Susan Platts, mezzo at the Glenn Gould Studio, May 7 at 8pm and "A Time There Was," with Virginia Hatfield, soprano, Scott Belluz, countertenor, Colin Ainsworth, tenor, and Geoffrey Sirett, baritone, at Walter Hall May 26 at 2:30pm.
On May 7 and 8 the Talisker Players presents a program of works that evoke birds. It includes music by Telemann and Arvo Pärt. The singers are Erin Bardua, soprano, and Vicki St. Pierre, mezzo, at Trinity St. Paul's Centre at 8pm.
I met R.H. Thomson more than 40 years ago when we were both in a production of the crucifixion scene from the York Mystery plays. Thomson played Pilate and I was one of the malefactors who torment Christ. This may have been the high point of my theatrical career but Thomson's had barely taken off. Over the years he has become one of our most distinguished actors. Earlier this season he performed (for Tafelmusik) the fictional memoirs of an early 18th-century oboist. On May 10, Thomson appears in an Eybler Quartet performance titled "An Evening with Michael Kelly" at the Heliconian Hall; repeated at St. Barnabas Church, St. Catharines, May 12 at 2pm. Although the works played are instrumental, the program will be of interest in relation to the history of vocal music. Kelly was an Irish tenor, who created the roles of Don Curzio and Don Basilio in The Marriage of Figaro andThomson's performance will be based on Kelly's Reminiscences. Thomson will also perform in "The Star of Robbie Burns" (Church of the Redeemer, June 7) with Virginia Hatfield, soprano, and Benjamin Covey, baritone.
The Toronto Masque Theatre will give its final concert of the season on May 10 and 11 (at 8pm) and May 12 (at 3pm; all at the Al Green Theatre). The program consists of John Blow's masque, Venus and Adonis, and a newly commissioned opera by Alice Ping Yee Ho, The Lesson of Da Ji. The singers are Vania Chan, Charlotte Corwin and Xin Wang, soprano, Marion Newman, mezzo, Timothy Wong, countertenor, Benjamin Covey and Alexander Dobson, baritone.
Klara Ek, soprano, and Gerald Finley, bass-baritone, will be the soloists in Brahms' German Requiem, with the Toronto Symphony (Roy Thomson Hall, May 22, 23 and 25). The first two of these concerts will also include Lieberson's settings of poems by Neruda.
Recitals at Rosedale kicks off its 2013/14 season with a special launch concert on June 1 (Rosedale Presbyterian Church at 7:30pm).
This month in its free Vocal Series the COC presents: Anna Christy, soprano, the star of the current production of Lucia di Lammermoor, in recital on May 21; a concert by the graduating artists of the COC Ensemble Studio on May 23; and a sneak preview of this year's Toronto Summer Music Festival on May 30. All three concerts are in the Richard Bradshaw Amphitheatre in the Four Seasons Centre from 12 noon to 1pm and are free.
And beyond the GTA: Leslie Fagan, soprano, Laura Pudwell, mezzo, Adam Bishop, tenor, and Peter McGillivray, baritone, will be the soloists in a performance of Bach's B Minor Mass (George Street United Church, Peterborough, May 11 at 7:30pm).
A postscript: I enjoyedthe lively performance of Mozart's Don Giovanni by students of the Glenn Gould School (although I have always seen the opera more as an account of frustrated desire than as an indulgence in bunga bunga). The Don (Diego Catala) sang a beautiful "Serenade" and Don Ottavio (Justin Stolz) was terrific in "Il mio tesoro." The finest performance came from Beste Kalender as Zerlina. She sang with warmth and had just the right mixture of naiveté, spontaneity and artfulness. 
Hans de Groot is a concertgoer and active listener. He also sings and plays the recorder.