Jumblies Theatre, 132 Fort York Blvd., Toronto, ON
May 18 to 19
Contact: Christian Howes / Victoria Yeh
416-799-0737
chris@christianhowes.com
www.christianhowes.com/creative-strings-workshop-toronto
Deadline: May 15
Cost: $500
Camp Hours: 10am to 6pm (Sat & Sun)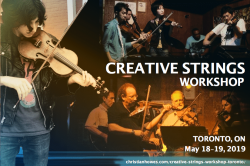 This intensive weekend conference will include masterclasses, group lessons, and chamber music coaching for performers and teachers on bowed strings seeking transformative growth and professional development. A 3-hour intro session option is also available.
The Creative Strings Workshop will focus on Creative Musicianship– Free Improvisation, Arranging, Composition, Modal, Harmonic, and Rhythmic internalization, Contemporary styles, and more!
Students, professional performers and teachers are welcome, including advanced jazz players and those with no improvisation training.
Hosted by one of the world's most acclaimed jazz/improv violinists, Christian Howes, along with fusion electric violinist co-host Victoria Yeh.