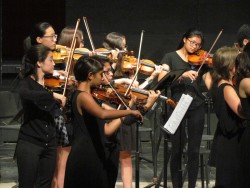 Wilfrid Laurier University, Waterloo, Ontario
August 13 to 18, 2017 (students)
August 12 to 20, 2017 (teachers)
Contact: Tracy Jewell
519-240-6995
sosi@artset.net
www.mysosi.ca
Deadline: Early bird May 1, 2017
Cost: Varies with program
Day programs; accommodation on campus available
Camp Hours: 8:30am to 4pm; evening activities also available
SOSI is an annual learning holiday for junior to advanced students, their parents, and teachers. Student programs in violin, viola, cello, bass, and piano include private lessons, group activities, enrichment classes, exciting optional classes, play-ins, and concerts. Our Mini-Institute provides a taste of the Institute to our younger first-time registrants who would like a half-day schedule. Our Suzuki Early Childhood Education program offers classes for infants to age three. SOSI's Young Artist Program for violin, cello, and piano offers instruction for advanced students. For parents, SOSI provides an opportunity to share ideas and learn new skills in working with their children. Teachers can develop and enhance their teaching skills during courses with outstanding instructors. See our website for full details.