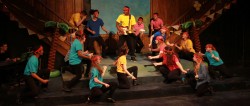 736 Bathurst Street, Toronto, Ontario
August 8 to 31, 2017
Contact: Lee-Anne Galloway, Kids Program coordinator
416-924-2243 x225
kidscoordinator@randolphacademy.com
www.randolphkids.com
Deadline: Registrations accepted until first day of each camp
Cost: Broadway Babies: $299
Both BB Camps: $550
Glee: $550
Both Glee Camps: $1,000
Musical Theatre Creation Lab: $650
Both MTCL Camps: $1,200
Camp Hours: 9am - 5pm
Randolph Kids are encouraged to express themselves and be inspired to learn within a safe and nurturing environment. Campers spend an unforgettable summer immersed in the arts while also learning valuable life skills, creating lasting friendships, and building confidence that extends beyond the studio and the stage.
Musical Theatre Creation Lab (Grades 9 to 12): Students spend 9 days immersed in intense creation, exploration and performance work to conceive, write and star in an original one-act musical.
Glee (Grades 3 to 8): Hip hop, vocal, and acting improv classes, plus special creative electives, coupled with choreographed Glee routines.
Broadway Babies (Grades 1 to 2): A four-day camp with singing, acting, dancing and crafts.