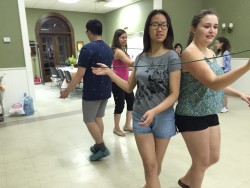 St. Mark's Anglican Church, Niagara-on-the-Lake, Ontario
July 22 to July 31, 2017
Contact: Barbara Worthy
905-468-0092 or 905-468-5566
bworthy@musicniagara.org
www.musicniagara.org
Deadline: May 31, 2017
Cost: $900 +HST
10-Day Residential Program, all students billeted in Niagara-on-the-Lake
Music Niagara's Performance Academy's 10-day program offers a unique curriculum of experiential arts workshops for gifted young musicians, aged 11 to 21, to complement, enhance and improve overall musical performance, plus masterclasses with acclaimed visiting artists.
Overview: masterclasses - open lessons and solo/group chamber music instruction with festival artists; public presentation - vocal skills, body language and performance presentation style; drama - from Shakespeare to improvisation, scenes, games, text and activities; poetry - working with language and rhythm to appreciate composition; period dance - body movement and fitness, dancing to the music they play; Alexander technique - relieve physical stress, improve performance strength and potential.
Students are also guaranteed two public performances. Personal practice time is reserved in the daily schedule.