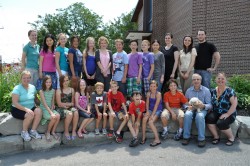 Midhurst, Ontario (just outside of Barrie)
July 10 to 14 and 17 to 21, 2017
Contact: Nena LaMarre
705-737-9342
play88@rogers.com
www.midsummersound.org
Deadline: May 1, 2017
Cost: $410
Camp Hours: 9am - 4pm
Midsummer Sound Festival is a fun and immersive learning environment for students to receive top-level instruction in their instrument. Faculty consists of Suzuki-certified, Dalcroze-certified, and University-trained musicians, including Juilliard, Yale, Western and UofT alumni with extensive teaching and international performing experience. Teachers instruct, mentor and perform alongside a group of young musicians aged 6 to 24 in Midhurst, Ontario, for an inspiring summer course in violin, viola, cello, piano, voice and guitar. Classes in music theory, history and musicianship are designed for children and adapted from the current teaching methods of premier music institutions. Teens and university students perform concerts with their faculty coaches, and may enroll as a pre-formed group. Daily classes in jazz, improv, orchestra, art, chess and tennis round out the day. The program runs twice, for five days. Each week culminates in a solo recital and final concert. Beginners are welcome.