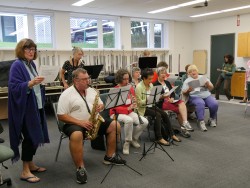 Lakefield College School, Lakefield, Ontario
August 13 to 20, 2017
Contact: Andrew Wolf
647-692-3463
info@lakefieldmusic.ca
www.lakefieldmusic.ca
Deadline: June 30, 2017
Residential program
Lake Field Music Camp brings together adult amateur musicians of all ages with intermediate to advanced skills in a friendly and supportive environment. The one-week program focuses on classical and jazz with a sampling of world and popular music. Participants build their own program from more than 50 workshops, technique and masterclasses, choirs and instrumental ensembles coached by 20 experienced instructors specializing in vocals, strings, woodwinds, brass, piano, guitar, bass and percussion. Classes for beginners are also offered for those wanting to try something new. Evening concerts provide performance opportunities and a chance to hear the instructors. The beautiful waterfront campus includes air-conditioned classrooms and a theatre. Dormitory (air-conditioned and fresh-air) and meal plans are available.