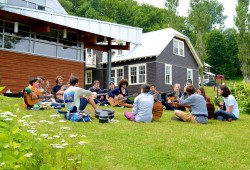 5, rang Saint-Antoine, C.P. 672, Saint-Irénée, Québec
June 4 to August 20, 2017
Contact: Rachel Tremblay
418-452-8111
admission@domaineforget.com
www.domaineforget.com/en/academy
Deadline: February 15, 2017, except Guitar, Dance and Pop Singing & Production (April 1, 2017) and Choir (May 1, 2017)
Cost: $710 CDN - $3660 CDN
Residential program
Le Domaine Forget Academy offers serious students the opportunity to perfect their skills under the auspices of world-renowned artists. The beauty and tranquility of the setting at Domaine Forget inspire creativity and the facilities are perfectly suited to the needs of both students and teachers. Whether you are a young professional or an advanced student, you will benefit from the opportunity to further your musical training through the tutelage of established teachers and the participation in masterclasses given by distinguished international artists.