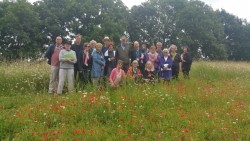 Toronto, Ontario and worldwide
July 16 to 21, 2017 and year-round
Contact: Melanie Blake
647-846-3422
info@classicalpursuits.com
www.classicalpursuits.com
Deadline: Varies
Cost: $1,485 to $4,990
Day and residential programs
Travel the world – or your own hometown – with the world's best books, art and music as your guides. Classical Pursuits offers two unique ways to share your passion for culture and conversation with other adults. Toronto Pursuits is a week of discussion-based seminars on topics from Plato to the history of the symphony and includes a five-part lecture series by opera expert Iain Scott. Travel Pursuits combines cultural travel with literary discussion. In 2017/18, our program includes journeys to Mexico for Day of the Dead and the Somme battlefields of WWI. With Classical Pursuits, enjoy meaningful learning experiences and time to relax, reflect and spend time with friends old and new.