June 7 to September 6, 2021
Toronto, ON
Read Profile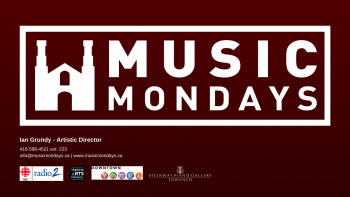 Music Mondays has served as a launching pad for emerging talent, and celebration of established local talent since its inception in 1992. Our pay-what-you-can lunchtime concerts take place in the warm acoustics of Holy Trinity Church, just steps away from the Eaton Centre, in busy downtown Toronto.
Our goal is to provide the highest possible musical experience to a pay-what-you-can downtown Toronto audience. Our audience includes office workers, tourists, retired folks, young children, the homeless, students and the musically curious.
Once again this season, our concerts will take place online at A440.live at 12:15pm every Monday from June 7 to Labour Day September 6. Please plan to join us for this, our 30th anniversary season!
416-598-4521, x223
https://www.a440.live/artists/5f1754aaeec7ff3ace0cdcbe
http://www.musicmondays.ca/