September 18 to 20, 2020
Port Dover, ON, world-wide online free shows
Read Profile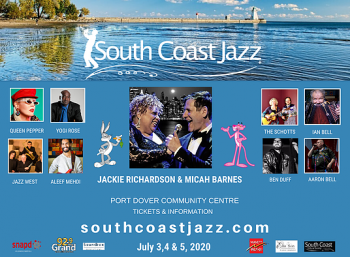 Welcome to the 7th annual South Coast Jazz festival on Lake Erie, Port Dover, September 18 to 20. Join our social media @southcoastjazz1 for free concerts and up-to-date information.
2020 features Jackie Richardson and Micah Barnes, Jazz West, Queen Pepper, Ian Bell Aaron Bell Aleef Mehdi, Ben Duff and more. Free Online concerts and prizes, too!
Visit our website for all bios, videos, event schedules, tickets and information and email us at info@southcoastjazz.com.
519-774-2787
www.southcoastjazz.com