July 26 to August
Robert Gill Theatre, Toronto, ON
Read Profile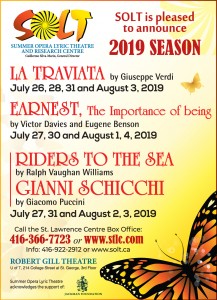 Summer Opera Lyric Theatre (SOLT) continues its tradition of bringing the summer opera mini-festival to the city. This summer, SOLT concentrates on diversity and inclusion, comedy and tragedy, found in the great works for the lyric stage and the lessons we can learn about ourselves and those who we love.
The festival includes 3 operas: Verdi's La Traviata, Canadian Team Davies and Benson's Earnest, the Importance of Being, and the double bill of Puccini's Gianni Schicchi and Vaughn Williams' Riders to the Sea, performed by aspiring young artists. Music directors: Michael Rose, Suzy Smith and Jo Greenaway.
Tickets are available through the box office of St. Lawrence Centre for the Arts; single tickets are $28.
416-366-7723
www.solt.ca