May 27 and June 26, August 18 to 27
Ottawa, Toronto and Prince Edward County, ON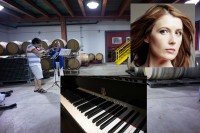 World-calibre, acclaimed classical music and performers in winery-barns, vineyard fields and rustic churches; two late-August weekends, with seven different concerts (+ May/June Urban-Outreach concerts). Venues set within nature, where Prince Edward County's gastronomic and viticulture scenes underlie each concert's intimacy and casualness – stripping away barriers to the music for you, the audience, and for us, the performers. Special guests: Krisztina Szabó and Jon Kimura Parker, Yosuke Kawasaki, Jessica Linnebach, Joanna G'froerer, Rachel Mercer, Yehonatan Berick, Karen Donnelly, Carissa Klopoushak, Julia MacLaine, David Pell, Evan Mitchell, David Marks, Nicholas Hartman, Steven van Gulik, Vadim Serebryany, Rachel Krehm, Sasha Johnson, Fanny Bray, Jaeyoung Chong, and Jonathan Krehm. A new, unique festival by top-flight performers, taking classical music out of their concert halls and giving it to you.
613-567-1925
www.classicalunbound.com