Caroline Corkum
647-518-5297
info@etobicokecentennialchoir.ca
www.etobcokecentennialchoir.ca
Read Profile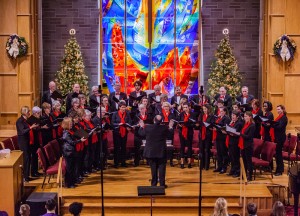 Etobicoke Centennial Choir (ECC) is an inclusive, community-based SATB choir in its 53rd season. We aspire to enrich the community through vibrant and diverse performances, ranging from choral masterpieces to contemporary compositions and popular music. ECC is a welcoming choir that offers singers a challenging but supportive choral music experience, facilitated by our professional music director, accompanist and vocal section leads.
Our 2019/20 season begins December 7 with Vivaldi's Gloria. On April 4, 2020, we perform Cherubini's Requiem Mass in C minor, along with works by Brahms, Vaughn-Williams and others. On June 6, "Musica Borealis" will highlight diverse vocal music from northern climes.
Rehearsals are Tuesday evenings. New singers are always welcome. Open rehearsals are held in early September and January.