Donna Bennett
705-653-5508
westben@westben.ca
www.westben.ca
Read Profile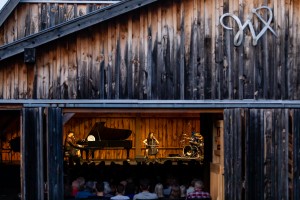 Westben, located in Northumberland County, two hours east of Toronto near the beautiful rural town of Campbellford in Trent Hills, just announced its 23rd season of live concerts opening July 1st, 2022. The month-long festival will feature over 70 artists and 25 concerts of classical, broadway, jazz, folk, pop, fiddle, rock, opera, and comedy.
New this year is spoken word by Peterborough's poet laureate Sarah Lewis from Curve Lake First Nations. From his home on the Yendinaga Mohawk Territory, David Maracle brings to life the ancestral teachings of the Haudenosaunee People through magnificent stone carving and music around the Westben Campfire. Musicians Natalie MacMaster, Joel Plaskett, William Prince and Eve Parker Finley will perform on Willow Hill, and Ofra Harnoy, Barbra Lica, Carol Welsman, Karina Gauvin, Queer Songbook orchestra, OKAN, Brian Finley, Mary Walsh, and Canadian Brass will be featured in The Barn.
The Broadway revue "ABBA Mia" will have you dancing in your seats in The Barn and on Willow Hill. The campfire series features Sarah Lewis and David Maracle, hosted by Alderville First Nations Chief Dave Mowat and Suzie Undgerleider and Julian Taylor hosted by Ken Tizzard. Experience music in a natural setting.