Guillermo Silva-Marin
416-922-2147
admin@operainconcert.com
www.operainconcert.com
Read Profile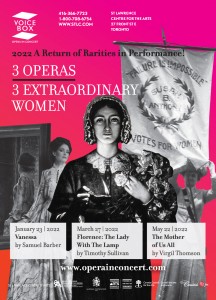 VOICEBOX: Opera in Concert is Canada's only company dedicated exclusively to the presentation of rare opera programming. Our performances rely on the power and beauty of the human voice, the dramatic inflection of text and poetry.
Season 2022 features three operas each focused on extraordinary women. It opens with Vanessa by Samuel Barber on January 23, 2022. It is an American opera about three generations of women, who confront society's intrusions into their secluded world. Vanessa is a high voltage drama of exquisite character detailing. Florence: The Lady With the Lamp by Canadian composer Timothy Sullivan and librettist Anne McPherson is next. Based on the life of Florence Nightingale, a British nurse who was a transformative social reformer and statistician best known as the founder of modern nursing. The performance is on March 27, 2022. The Mother of Us All by Virgil Thomson is the season finale on May 22, 2022. This dramatic opera imaginatively chronicles the story of Susan B. Anthony and the women's suffrage movement. All three performances will be with OIC Chorus led by chorus director Robert Cooper.
Performances are held at the St. Lawrence Centre for the Arts. Proof of full vaccination will be required.