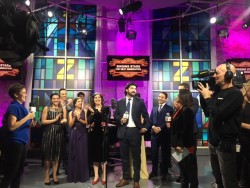 The IRCPA enables musicians to bridge the gap between training and professional employment. A growing number of musicians are empowered to succeed through IRCPA's programs. We connect musicians of mixed genres with one another, with artistic coaches, other performers, and with leaders in the industry—a proven need with obvious impact!
Encounters with Adrianne Pieczonka for opera singers and with the Dorian Wind Quintet for wind and brass players or ensembles start the season in October and November.
New this year: Bright Productions is a service for members' events allowing artists to concentrate on their performance and leave the logistics to IRCPA;
In the works: The Jazzmobile (set to launch summer 2019) will be a tractor-trailer based mobile stage for live performances, intended to build new audiences, employment for musicians, and great exposure for sponsors.
Also planned: Informal round-table meet ups (schedule to be confirmed)
January: What's New York Up to? Reports from conferences!
March: Negotiations, contracts, touring, payment.
April: Business plans made easy.
May: Money for Musicians: Musicians rights matter!
Ann Summers Dossena
416-362-1422
info@ircpa.net
www.ircpa.net