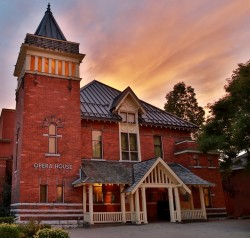 Built in 1901, the stunning Gravenhurst Opera House is situated in the heart of downtown Gravenhurst, the Gateway to Muskoka. Featuring arts and cultural programming year-round, this historic gem is credited for having been home to the birth of Summer Theatre in Canada.
Owned and operated by the Town of Gravenhurst, the Opera House provides a variety of high quality programming year-round from live theatre performances, school programming and community events to award winning musical artists; it is also the home of the Sawdust City Music Festival, Muskoka Film Festival and continues to produce Muskoka Summer Theatre since 1934.
The beautiful 320-seat theatre was built with exquisite acoustics and remains in the top 10 in Canada for its sound quality. It is a wonderful, intimate space to see a show and artists love to perform here. In addition to the theatre, we also have a lovely banquet room, bar and have hosted meetings, weddings and celebrations of all kinds. Our facilities are affordable to rent and for our patrons, we offer getaway packages, group rates, local incentives and more.
As the cultural cornerstone of Historic Downtown Gravenhurst, it truly is a tradition worth coming back for.
Krista Storey
705-687-5550
krista.storey@gravenhurst.ca
www.gravenhurstoperahouse.com