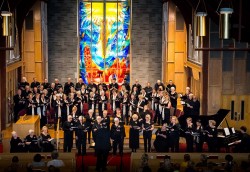 In its 52nd season, Etobicoke Centennial Choir (ECC) offers singers a rewarding choral music experience in a welcoming community. ECC performs diverse repertoire, ranging from classical masterpieces to contemporary compositions and popular music. Our season begins Saturday, December 8 with "Welcoming the Light," featuring Bach's Christmas Cantata and other seasonal repertoire.
"After the Snow" on April 6, 2019 features a performance of Paul Winter's Missa Gaia/Earth Mass - an environmental liturgy integrating singing with world and jazz instrumental music and sounds from the wild that celebrates the earth as a sacred space. This will be paired with Dvorak's Mass in D Major.
In "After the Rain" on June 1, we join Bulgarian-Canadian Toronto composer/guitarist Anton Apostolov and instrumentalists for a performance of three of his works, along with Morton Lauridsen's Les chansons des roses and a selection of spirituals.
Rehearsals are Tuesdays from 7:30 to 10pm at Humber Valley United Church, Etobicoke.
ECC always welcomes new choristers. Interested singers are encouraged to attend a rehearsal. Scheduled open rehearsals will be on September 11 and January 8.
Greg Pimento, choir president
Lauren Mayer, media relations
416-433-5495
publicity@etobicokecentennialchoir.ca
info@etobicokecentennialchoir.ca
www.etobicokecentennialchoir.ca