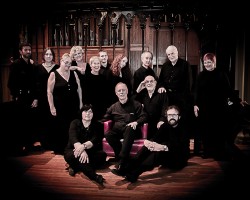 Cantemus Singers was established in 2008 by our conductor, Michael Erdman, to help expand Toronto's exposure to and appreciation of Renaissance and early Baroque secular vocal music. Our 12-voice a cappella ensemble focuses mainly on the interesting and evocative madrigals, lieder, chansons and villancicos of the 16th century. We also perform religious works, often the five-to-eight-part compositions less often heard by Toronto audiences.
Our 2018/19 season begins November 24 and 25, as we perform Christmas music from Spain, including Flecha's charming ensalada "La Bomba." Our March program, "Fair Oriana" explores the cult of Queen Elizabeth, featuring works by Morley, Tallis and Byrd. In May, our spring concerts focus on the music of the German princely courts with works by di Lasso, Praetorius and Schütz.
Performances are at Church of the Holy Trinity (10 Trinity Square – Eaton Centre) and at St. Aidan's Anglican Church (70 Silver Birch Ave. at Queen St. E.). Check out our website for times.
Michael Erdman, conductor
416-578-6602
cantemus.ca@gmail.com
www.cantemus.ca