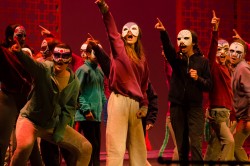 The Canadian Children's Opera Company occupies a unique position as the only permanent children's opera company in Canada, and one of only a handful in the world. It commissions, produces, records and tours new operas and choral music, with children as both the principal performers and main audience. The company also regularly collaborates with other leading arts organizations, including acting as the children's chorus for the Canadian Opera Company. The group includes six divisions plus an outreach arm (OPERAtion KIDS), involving hundreds of children and youth ages 3 through 19.
Now celebrating its 51st season, the CCOC is led by CEO Stan Klebanoff, managing director Ken Hall and music director Teri Dunn.
The CCOC offers children and youth a unique experience, giving members unparalleled performance opportunities and life skills along with age-appropriate vocal and dramatic training. Opera is simply storytelling with music, and those are two things that kids and youth love!
The 2018/19 season will feature a new production of John Greer's The Snow Queen originally commissioned and premiered by the company in 1993.
Ken Hall
416-366-0467
info@canadianchildrensopera.com
www.canadianchildrensopera.com