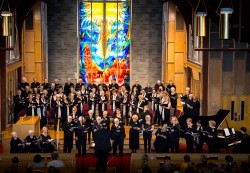 Coming off its landmark 50th anniversary season, the Etobicoke Centennial Choir (ECC) looks ahead to more great music-making! We are an auditioned SATB community choir that offers a high-calibre choral experience for both singers and audiences. Under music director Henry Renglich, ECC performs a diverse repertoire ranging from classical choral masterpieces to contemporary compositions and popular music.
Our season begins on Saturday, December 2, 2017 with "Sacred Traditions 2017," a joyful celebration of the holiday season featuring Pergolesi's Magnificat, Holst's Christmas Day and other seasonal repertoire.
On April 7, 2018, "Gloria! Joyous Music from Haydn to Poulenc" will feature Haydn's Te Deum, Schubert's German Mass, Brahms' Vier Quartette and Poulenc's Gloria.
The season concludes on Saturday, June 8, 2018 with "Oh Canada!," celebrating music of composers and arrangers from our talented home and native land.
Rehearsals are Tuesdays from 7:30pm to 10pm at Humber Valley United Church in Etobicoke. The ECC always welcomes new choristers. Interested singers are encouraged to attend a rehearsal. Open rehearsals are held in in September and January.
Shari Ellis, membership chairperson
416-622-6923
info@etobicokecentennialchoir.ca
www.etobicokecentennialchoir.ca