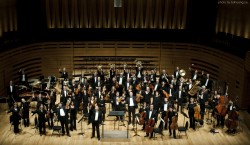 Founded in 1983 by music director and conductor Alex Pauk, Esprit's commitment to commissioning and advancing contemporary music has set it apart as one of the few organizations of its kind on a global scale. Esprit consistently collaborates with outstanding composers, and performs with first-class soloists and ensembles from Canada and abroad.
Each concert season, Esprit Orchestra commissions, promotes and performs the work of Canadian composers, and features Canadian premieres of music by leading international composers.
With a dynamic annual subscription concert series, this skilled 65-member orchestra presents music that is otherwise unavailable in Canada, always performed to the highest standards in the acoustically acclaimed Koerner Hall at the TELUS Centre for Performance and Learning.
Amber Melhado
416-408-0208
amber@espritorchestra.com
www.espritorchestra.com