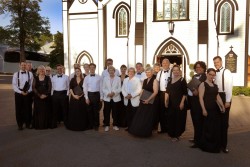 Celebrating its 39th season in 2017/18, the Elmer Iseler Singers, conducted by artistic director Lydia Adams, is a 20-voice professional choral ensemble based in Toronto. Founded by the late Dr. Elmer Iseler in 1979, the Singers have built an enviable reputation throughout Canada, the United States and internationally.
The Singers present a five-concert subscription series in Toronto, also participating in local workshops and other Toronto concerts – including guest performances with the Toronto Symphony Orchestra.
Touring is a major component of the EIS activities, having just completed a seven-city Western Canada tour in April 2017 and an Eastern Canada tour, with Dr. Roberta Bondar, in July 2017. The Singers are active in many Ontario communities and specialize in their GET MUSIC! Educational choral workshops and performances in the GTA.
Recently, Lydia Adams was appointed Visiting Associate Professor in Choral Studies at Western University. She is the Artist Recipient of the 2013 Ontario Premier's Award for Excellence in the Arts, the 2012 winner of the Roy Thomson Hall Award of Recognition and a 2017 JUNO nominee with the Elmer Iseler Singers.
Jessie Iseler
416-217-0537
info@elmeriselersingers.com
www.elmeriselersingers.com