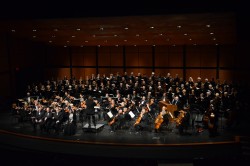 Cathedral Bluffs Symphony Orchestra (CBSO) has been one of Toronto's premier community orchestras since 1985. CBSO concerts take place in the state-of-the-art P.C. Ho Theatre in the Chinese Cultural Centre of Greater Toronto, 5183 Sheppard Ave. E.
Under the baton of maestro Norman Reintamm, the CBSO will present a thrilling and unique seven-concert 2017/18 season, including five subscription series concerts. This season, the CBSO is pleased to present some of Canada's rising stars and critically acclaimed performers, including pianists Robert Horvath and Ken Gee. In addition, we are delighted to present a fully-staged version of the seasonal favourite opera Hansel and Gretel, with Tryptych Concert & Opera. Visit our website for details about our season.
The orchestra is noted for facilitating performance opportunities for young musicians, and always welcomes new members.
Norman Reintamm, artistic director/principal conductor
Peggy Wong, orchestra manager
416-879-5566
cbsoboxoffice@gmail.com
www.cathedralbluffs.com