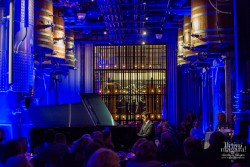 Bravo Niagara! Festival of the Arts is a not-for-profit organization dedicated to presenting the world's leading Canadian and international artists and rising young stars in innovative, inspiring multi-sensory concert experiences in Niagara-on-the-Lake and the surrounding Niagara wine country. Bravo Niagara!'s concerts span diverse musical genres from classical to jazz, world music to pop.
Highlights of the 2017/18 season include the Voices of Freedom Festival, September 28 to October 6, featuring superstar soprano Measha Brueggergosman and jazz great Wycliffe Gordon (September 29), and Grammy Award-winning bassist and vocalist Richard Bona (October 6).
Bravo Niagara! is also executive producer of the Oscar Peterson International Jazz Festival. The inaugural festival will take place February 16-18, 2018 and is led by artistic producer Kelly Peterson and artistic director Renee Rosnes.
Highlights of the 2018 Spring into Music Series include performances by pianist Jan Lisiecki, violinist Nikki Chooi, pianist Emily Bear as seen on the Ellen DeGeneres Show, Schwarz-Bournaki Duo (Julian Schwarz, cello and Marika Bournaki, piano), and rising star jazz pianist Brandon Goldberg as seen on the Harry Connick Jr. Show.
Alexis Spieldenner
289-868-9177
music@bravoniagara.org
www.bravoniagara.org