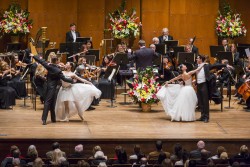 "Salute to Vienna New Year's Concert" returns to Toronto (Roy Thomson Hall, January 1, 2:30pm) and Hamilton (FirstOntario Place, December 30, 2:30pm) this holiday season. The spirited romance of operetta, the glamour of ballroom dance, and the delicate beauty of ballet will waltz you into a triumphant New Year, in a charming celebration that blends acclaimed European singers and dancers with an exceptional full orchestra.
Also co-produced with Roy Thomson Hall: "Bravissimo! Opera's Greatest Hits" (New Year's Eve, 7pm). Four world-renowned opera stars, backed by a 40-voice opera chorus and full orchestra, will perform your favourite arias, choruses and duets that have withstood the test of time and are as bright and everlasting as the tradition of New Year's Eve.
AGCP co-presents the Cinematic Series with the Sony Centre – films presented in stunning HD with live orchestra. Upcoming performances: "Harry Potter and The Chamber of Secrets In Concert" (October 12-14), "Jurassic Park In Concert" (December 28-29), and "Harry Potter and the Prisoner of Azkaban In Concert" (May 16-17).
416-323-1403
glatz1@glatzconcerts.com
www.salutetovienna.com
www.glatzconcerts.com