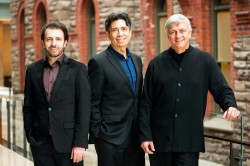 Amici Chamber Ensemble celebrates 30 years as one of Canada's finest and most distinguished chamber music ensembles. Artistic directors clarinetist Joaquin Valdepeñas, cellist David Hetherington and pianist Serouj Kradjian invite some of the finest musicians to join them in innovative and eclectic programming, celebrating friendship through music.
Amici Chamber Ensemble's annual concert series has featured world-renowned musicians as frequent guests, including Isabel Bayrakdarian, Lara St. John, Jonathan Crow, Russell Braun, Michael Schade, Cho-Liang Lin, Jaime Laredo, André Laplante and James Sommerville. The ensemble has commissioned and premiered over 20 works by Canadian composers, among them Allan Gordon Bell, Chan Ka Nin, Brian Cherney, Malcolm Forsyth, Jacques Hétu, Alexina Louie and Jeffrey Ryan.
Alongside numerous broadcasts of their concerts on national radio, Amici Chamber Ensemble's recordings have placed them firmly among the world's best chamber musicians and garnered the ensemble two JUNO awards, most recently the 2013 Classical Album of the Year: Solo or Chamber Ensemble, for Levant. Other prestigious honours include several JUNO award nominations, including a 2011 nomination for the ATMA Classique disc Armenian Chamber Music.
Kaija Corlazzoli, general manager
416-871-4275
kaija@amiciensemble.com
www.amiciensemble.com