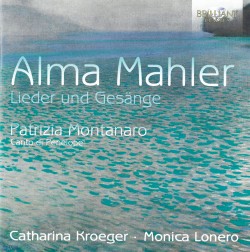 Alma Mahler – Lieder und Gesange
Catharina Kroeger; Monica Lonero
Brilliant Classics 95469
Alma Schindler was an aspiring composer who, in 1900, became a student of Alexander von Zemlinsky (who also became her lover). In December 1901 she became engaged to Gustav Mahler, who did not allow her to compose. He was the composer of the family; she was to be the loving companion and understanding partner of her husband. Such an attitude seems insensitive and draconian but it would not have been uncommon at the beginning of the 20th century. In 1910, at a time of great personal stress, Mahler relented and helped his wife revise five of her songs for publication. After his death two further publications followed: four songs in 1915, five in 1924.
The performance of the Alma Mahler songs is complemented with Patrizia Montanaro's Canto di Penelope, in which the protagonist "rejects the role that has been assigned to her by the myth and lays claim to her own autonomy as a woman, a mother and a head of household." The oblique relevance to the story of Alma is clear.
It is time to move past the notion of Alma Mahler as Gustav's wife and to listen to the songs in their own right. Several of them are certainly arresting, with surprising harmonies. They are beautifully sung by the soprano Catharina Kroeger. The pianist Monica Lonero is especially fine. I note that in November soprano Barbara Hannigan and pianist Reinbert de Leeuw will perform in Koerner Hall works by members of the Second Viennese School and that the concert will include not only works by Alban Berg and Anton Webern but also songs by Hugo Wolf (a forerunner?) and Alma Mahler. It will be interesting to see how her work will stand up in that context.