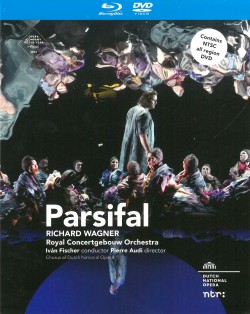 Wagner – Parsifal
Marco-Burmester; Petrenko; Struckmann; Ventris; Lang; Royal Concertgebouw Orchestra; Iván Fischer
Challenge Classics CC72619 (challengerrecords.com)
German Romantic opera reached its pinnacle under Wagner. Once he found his stride, Singspiels and Italianate number operas would be side-tracked in German-speaking opera houses. Wagner melded mythical stories to seamless, powerful symphonic music in masterpieces including his iconic Ring Cycle. Then Parsifal, Wagner's final opera, broke that mould, when it was premiered at the second Bayreuth Festival in 1882. The opera – an adaptation of Wolfram von Eschenbach's 13th-century epic poem Parzival – caused a stir with its depiction of religious fervour, purity of caste and women as sexually depraved heathens. Reactions were confused at first but by 1887 they turned vehement. Still, Wagner remained adamant and, in an era increasingly bereft of sacred experience, he was emphatic in his belief that music dramas should fully absorb audiences in mystical truths.
The Royal Concertgebouw Orchestra's performance of Parsifal, conducted by Iván Fischer is a considerably minimalist production directed by the Wagner expert and director of the Dutch National Opera, Pierre Audi. Produced for television and DVD in 2012, it may be short on the lavish density of Hans-Jürgen Syberberg's acclaimed 1982 production. However, with a wooden strut-like framework depicting the castle that houses the suffering Amfortas drenched in his blood, and its preternatural stairway to heaven, an atmosphere of both horror and pity is superbly created. Such spare environs are perfect for the cavernous voices of Titurel, founder of the Knights of the Grail and his son Amfortas, sung by Mikhail Petrenko (bass, who also sings Klingsor) and Alejendro Marco-Buhrmester (baritone) respectively. Falk Struckmann (bass) as the veteran Knight of the Grail, Gurnemanz, rumbles on sublimely too. But the tenor Christopher Ventris' Parsifal and soprano Petra Lang as Kundry leave indelible marks on both roles.
The magnificent vocal colouring and shifting tonalities in the agony and ecstasy from Act I to Act III is convincingly Wagnerian. More important than that is the transition from agonizing sinful states to depictions of redemption and salvation. Here, in their complete transformation, every principal cast member shines. Anish Kapoor's set design especially in Act II – where the backdrop of an orb of sorts seems to reflect the depth of the characters' changing emotions through spectacular lighting by Jean Kalman – is absolutely magical. There are minor fluctuations of volume in the DVD sound, but these are minor irritants. The miraculous translation of the three-dimensional depth of the play onto the flat television screen is a major production triumph.