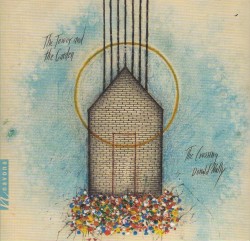 The Tower and the Garden
The Crossing; Donald Nally
Navona Records NV6303 (crossingchoir.org)
Gavin Bryars – A Native Hill
The Crossing; Donald Nally
Navona Records NV6347 (crossingchoir.org)
American professional chamber choir The Crossing, conducted by Donald Nally, is a multi-Grammy-winning ensemble dedicated to new music, collaboration and modern day social, spiritual, environmental and cultural issues. In these two recordings, they perform recent works with in-depth understanding of the music and issues the composers explore.
The Crossing commissioned three composers on The Tower and the Garden. Estonian Toivo Tulev set Walt Whitman's words in the slow new music-flavoured, haunting A child said, what is the grass? (2015). Almost shrill attention-grabbing opening vocals lead to contrasting high female and low men's interval patterns and drones in fluctuating tonal/atonal segments to the final hopeful long note. The Tower and the Garden (2018) for choir and string quartet by Gregory Spears, is a more tonal four-movement setting of poems by Keith Garebian, Denise Levertov and Thomas Merton exploring religion, technology and conservation. Highlight is the tonal third movement Dungeness Documentary. Set to Garebian's text which pays homage to the late filmmaker Derek Jarman's final days, its slower, slight dissonant strings opening, and subsequent emotional tight choral vocalizations with strings, is breathtaking listening. Composer Joel Puckett's I enter the earth (2015) sets words, spoken by shaman Kxao =Oah of northwestern Botswana in 1971, in a meditative work connecting body and soul with vocal swells, wide-pitched lead lines and static reflective held notes.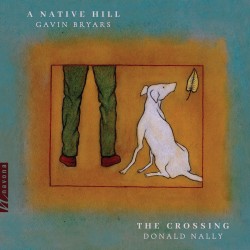 A Native Hill (first complete performance 2019) is a 12-movement work for 24-member a cappella choir with minimal keyboard parts, composed by Gavin Bryars as a gift to The Crossing. A follow-up to his Grammy Award-winning work composed for them, it is based on the 1968 essay of the same name by American author and activist/environmentalist Wendell Berry about his rural life existence.
Bryars' understanding of The Crossing's talents makes this over-one-hour monumental composition amazing in content, musicality and choral sounds. Mostly tonal, each movement has a nature-based name. Highlights include Sea Level where the wave motion can be heard in longer, full harmonic notes and dynamic swells. More water music in The Music of Streams with slower occasional sudden swells and subtle atonalities. The shorter The Hill has answering between vocal groups and a suspenseful drone. Clever use of choral whistles and hums in Animals and Birds. At Peace is a dramatic change in sonic pace with the opening featuring each choir member singing their own note to create a 24-voice cluster followed by touches of romanticism, atonalities and tonal harmonies building dramatically to close the work.
Conductor Donald Nally is brilliant leading The Crossing from musical subtleties to complexities. The Crossing's performances illuminate their expansive musical artistry. Production is clear and detailed. Both these discs are highly recommended!