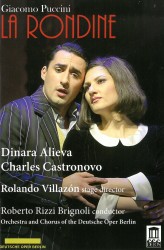 Puccini – La Rondine
Dinara Alieva; Charles Castronovo; Orchestra and Chorus of the Deutsche Oper Berlin; Roberto Rizzi Brignoli
Delos DV 7010
In Puccini's unfairly neglected La Rondine two souls are desperately in love, but predestined to fail due to societal forces and pressures that destroy their happiness. La Traviata comes immediately to mind, and this became one of the problems hampering its success, but the comparison is wrong. In Verdi, Violetta's love never falters, while here the heroine is simply unable to break with her past and choose freedom (like a swallow), arbitrarily ending the relationship.
Rolando Villazón whom the Deutsche Oper Berlin picked to direct the opera saw the problem very clearly and very differently from average past productions. He embedded the tragic conclusion from the very start into the frothy superficial fun-and-games party atmosphere. Three masked men always surround the beautiful heroine representing former rejected lovers, soberly reminding us of her past, and at the end her true love Ruggero also gets a mask and joins the group much like in Bluebeard's Castle where the three murdered wives are joined by Judith in oblivion.
Deutsche Oper's new production finally vindicates and reinstates this opera into the repertoire sumptuously presented and resplendent in rich colours. The action moves with an irresistible forward momentum and is directed with virtuoso skill. The second act's complex crowd scenes are especially memorable. Puccini's score is harmonically adventurous, full of irresistible melodies and conducted with romantic abandon by Roberto Rizzi Brignoli. The fine, young and talented cast is headed by Dinara Alieva, soprano sensation from Azerbaijan, whose voice is "a gift from heaven" (Montserrat Caballé) absolutely perfect for the role of Magda. French tenor Charles Castronovo, her unfortunate lover, is radiantly expressive, especially in the last act – guaranteed to break your heart. The other couple (Alexandra Hutton and Alvaro Zambrano) reminds us of Marcel/Musette of La Bohème and provides a delightful contrast and comic relief.