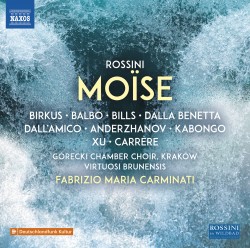 Rossini – Moïse
Soloists; Gorecki Chamber Choir, Krakow; Virtuosi Brunensis; Fabrizio Maria Carminati
Naxos 8.660473-75 (naxosdirect.com/search/730099047371)
Well, the ancient Hebrews certainly didn't know that they would be marching out of Egypt to a Rossini tune! Rossini composed Moses in Egitto for Naples in 1818 when he was 26 years old. Then, like many other Italian composers he went to Paris for fame and fortune, and as a wealthy and successful composer turned Moses into a French grand opera (Moïse et Pharaon) with new, spectacular stage effects, adding additional music and even a ballet. The opera became tremendously successful.
The biblical story is the struggle of Moses (Russian basso Alexey Birkus) to convince the Pharaoh (Italian basso Luca Dall'Amico) to let his people go by producing miracles punishing the Egyptians with calamities until the hesitant Pharaoh gives in and the rest is history. Interwoven in the plot is a love story between the Egyptian crown prince (virtuoso American tenor Randall Bills) and a Hebrew girl (Italian soprano Elisa Balbo) in conflict between love versus loyalty to family and country. Somewhat like the Aida/Radames love story later in Verdi.
The rather lengthy opera is musically very rich, extremely enjoyable with catchy tunes, beautiful arias, duets, ensembles and exciting stretta finales. The second act is a work of genius with show-stopping hits coming one after the other. The heavenly vocal quintet O toi dont la clémence is followed by an animated duet between Pharaoh and son (Moment fatal! que faire?) and a tremendous scene and aria by Queen Sinaide (Italian soprano Silvia dalla Benetta). The opera ends unforgettably with the Prayer Scene when the Israelites are praying for the Red Sea to part with a marvellous, iconic melody so beautiful that even Liszt wrote a paraphrase on it. Flawless cast, superb soloists and expertly conducted with true Rossinian flair by Fabrizio Maria Carminati.