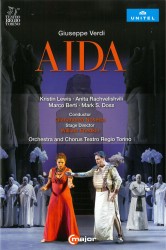 Verdi – Aida
Lewis; Rachvelishvili; Berti; Doss; Orchestra and Chorus Teatro Regio Torino; Gianandrea Noseda
Cmajor 736908
Aida was composed to celebrate the opening of the Cairo Opera House; this production marks the reopening of the Egyptian Museum in Turin. The director is William Friedkin, mainly known as the director of The Exorcist, who has become interested in directing opera in recent years: Wozzeck and Rigoletto in Florence, Salome in Munich and Tales of Hoffmann in Vienna. His production of Aida is not particularly innovative but it is to his credit that he does not try to impose a counternarrative on the opera as so many directors now do. The balance between solemnity and intimacy is well conveyed.
Of the singers I did not particularly like the Radames, Marco Berti. He has a strong voice but tends to be unremittingly loud. If one turns to Jon Vickers' rendition of the role (with its wonderful tenderness in Celeste Aida) one has a clear sense of how that part could be performed. The female singers are much finer: Kristin Lewis as Aida is particularly fine in O patria mia (Act III) and in O terra addio (final scene). The mezzo Anita Rachvelishvili (we recently heard her as Carmen in Toronto) as Amneris and the baritone Mark S. Doss as Amonasro are also very good. A particular mention should be made of the very fine choreography by Marc Ribaud.