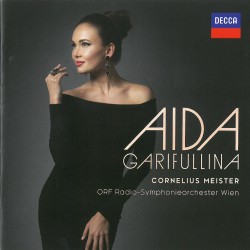 Aida Garifullina
Aida Garifullina; ORF Radio-Symphonieorchester Wien; Cornelius Meister
Decca 478 8305
Review
Perhaps it is the wind from the steppes of the Russian Federation that keeps blowing in soprano after soprano, the likes of Anna Netrebko, Olga Peretyatko, Ekaterina Siurina… and now this young spinto from the Tatar republic, Aida Garifullina, Decca's newest star, a favourite of Valery Gergiev and Placido Domingo whose Operalia Competition she won in 2013.
Already a darling of TV audiences in Europe: at the Bastille Day big open air concert in Paris, partnered by Juan Diego Florez, with the great Gatti conducting; her sensational appearance as Queen of the Vienna Opera Ball singing her signature tune Ah! Je veux vivre was a sight to behold! No wonder the Mariinsky Theatre and the Vienna State Opera snapped her up pretty quickly for some lead roles.
This debut disc shows off her stunning voice in predominantly opera, her main interest, of French and Russian composers – Tchaikovsky, Rimsky-Korsakov and Rachmaninoff – in opera and Lieder repertoire plus, as a tribute to her Tatar ancestry, some native songs. Fearlessly she tackles the formidably difficult Bell Song from Lakmé right at the beginning with spectacular coloratura acrobatics mingled with a wistful oriental charm supported beautifully by the lush orchestration. Oriental flavour continues with Song of India sung with rapt sensuous enchantment and I was very pleased by the surprising inclusion of the gorgeous but rarely heard Seduction Aria from Le Coq d'Or, a recently acquired favourite of mine.
Suitably conducted with great panache by Staatsoper conductor Cornelius Meister and beautifully recorded in Vienna, one could say with the song This could be the start of something…great.