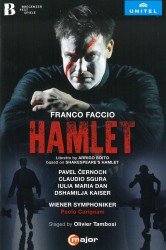 Franco Faccio – Hamlet
Paul Cernoch; Claudio Sgura; Julia Maria Dan; Dshamilja Kaiser; Wiener Symphoniker; Paolo Carignani
Cmajor 740608
In 1887, Franco Faccio conducted the world premiere of Verdi's Otello, set to a libretto by Arrigo Boito. More than 20 years earlier, Faccio and Boito had collaborated on a different Shakespearian opera, Amleto (Hamlet). Well-received at its 1865 premiere, a poorly performed revised version flopped in 1871 and Faccio, disheartened, withdrew the work. It remained unperformed until 2014 in concert in Albuquerque, and the fully staged 2016 Bregenz (Austria) Festival production recorded here.
What a wonderful discovery! Faccio's Hamlet, with its intense, powerful score that anticipates verismo, deserves to be welcomed to all the world's major opera houses. The fiery "Get thee to a nunnery" duet between Hamlet and Ophelia foreshadows the Santuzza-Turiddu duet in Cavalleria Rusticana; the dreamy music of Ophelia's mad scene is hauntingly beautiful; and the poignant, stirring strains of her funeral procession could easily be mistaken for a Mascagni intermezzo.
Boito's skillful libretto tightens Shakespeare's play but retains all the famous episodes, adding a remorse aria for Gertrude to match the aria on Shakespeare's prayerful text for Claudius. Heading the excellent cast is Pavel Černoch, superb as Hamlet with his dark, focused tenor and rock-solid high notes. Thankfully, stage director Olivier Tambosi eschews the grotesqueries common at Bregenz, although he introduces some inexplicable movements by silent courtiers into the otherwise traditional, un-updated mise-en-scène. Another puzzling touch – large images of eyes on most of Gesine Völlm's period costumes.
That aside, this DVD is an absolute must-see-and-hear for every opera lover.