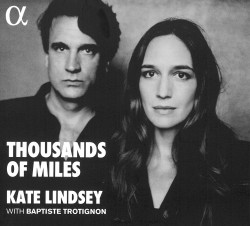 Thousands of Miles
Kate Lindsey; Baptiste Trotignon
Alpha Classics ALPHA 272 (alpha-classics.com)
Kurt Weill may be correctly described as a misunderstood genius. He was very serious about his music, yet was (and still is by many) dismissed as a "cabaret composer." Despite the success of his collaborations with Bertolt Brecht, these works were banned in Nazi Germany and took the better part of the 1970s to reclaim their place in the repertoire. Similarly, his American works (One Touch of Venus, Street Scene, Lost in the Stars) were judged to be "not American enough" and not sufficiently "jazzy." Here is a pairing of two artists to put both of these myths to well-deserved rest.
Kate Lindsey, a classically trained mezzo, takes on Weill as if his works were more traditional German and Austrian lieder. In fact, when intermingled with songs by Alma Mahler, Erich Korngold and Alexander von Zemlinsky, the interpretative point is beautifully made. On the other hand, jazz pianist Baptiste Trotignon eschews often sketchy and reliably non-Weill arrangements and reductions and instead interprets the melodies in the best jazz tradition. The result is as fresh and surprising as you would expect: Weill the classical composer, and Weill the Gershwin rival! Although for many of us it may be hard to get the voice of Lotte Lenya out of our heads, the genius of Weill demands no less than that.