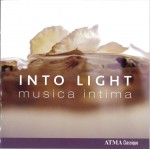 Into Light
Musica Intima
ATMA ACD2 2613
The outstanding vocal ensemble Musica Intima is based in Vancouver, a city with a rich tradition of exploration in choral music. Musica Intima's innovations are many. It is a youthful chorus of 12 outstanding professional musicians who perform without a conductor; instead, members have developed their own signals for musical intercommunication. They sing with pure, vibrato-less tone, and "Into Light" demonstrates their ability to sound effortless in the most difficult music.
There is much talk today of "spirituality in music" but do we know what we are talking about? For me, spirituality lies as much as anything in the way things happen musically, the processes in the work and how we experience them. At least, "Into Light" is to me a spiritual collection both in texts, religious or otherwise, and in musical settings by familiar and lesser-known Canadian composers. There is the sense of discovery, of seeing-beyond, in Three Hymns from R. Murray Schafer's The Fall Into Light. And in the mystery of deep, dark, complex textures in Jocelyn Morlock's Exaudi. Claude Vivier's pleading, dissonant Jesus erbarme dich seems to come from a startlingly-evoked wilderness, while Imant Raminsh's tonal, harmonically-subtle Ave Verum Corpus keeps settling in an uncanny way on the "right" added-note chords, inversions, and spacings as it builds to an ecstatic climax.
"Into Light" was recorded beautifully by the team of producer Liz Hamel, engineer Don Harder, and digital editor Jonathan Quick. A must-buy for fans of choral music and of all-around musical excellence.