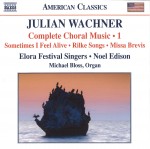 Julian Wachner -
Complete Choral Music Vol.1
Elora Festival Singers; Noel Edison
Naxos 8.559607
Not quite a household name, American composer/conductor Julian Wachner is now in his early 40s and has built himself a stylistic reputation for eclecticism. This recording by the Elora Festival Singers is an example of just how broad Wachner's stylistic embrace can be. It is also another example of the artistically tenacious style that has become the hallmark of the EFS.
Because we most often associate a composer with an identifiable vocabulary or language, it's a bit odd to find someone so stylistically diverse yet so secure in his writing. Wachner's command of choral techniques and effects is solid and polished. The EFS's ability to meet the exacting demands of this music makes this recording altogether remarkable.
Wachner describes his choral writing as "text-driven". How important and effective this is becomes evident as one plays through the 19 tracks of sacred and secular works. Poetic texts by E.E. Cummings and Rilke deliver fanciful, sensitive and experimental moments always linked to a detectably romantic undercurrent.
Wachner's sacred music, by contrast, may appeal more to the structured expectations of its audience but is no less inventive than his art song. Perhaps the most colourful work on this recording is his Missa Brevis. Each of its four sections is clearly cast in a unique form with considerable variation in ensemble colour and tempo. Most importantly, Wachner never loses touch with the "other-worldliness" that needs to be at the heart of all sacred music.
Naxos has produced a fine recording with the EFS, which bodes well for their projected "complete choral music" series. ATMA plans a release in the fall of more Wachner music – for organ and orchestra.
Alex Baran