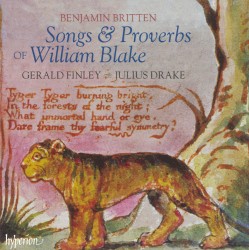 Britten - Songs & Proverbs of William Blake
Gerald Finley; Julius Drake
Hyperion CDA67778
The songs of Britten naturally conjure up the memory of Peter Pears, Britten's partner, muse and greatest influence. The celebrated tenor was also the poetry consultant to the composer and their shared tastes shaped Britten's output. But there were other voices he composed for. One of the most significant ones was Dietrich Fischer-Dieskau, the wonderful baritone. Just like in his operas, from Billy Budd to Death in Venice, Britten approaches the baritone voice in these songs with a lyricism usually reserved for the tenor. Given that and the special nature of Blake's poetry, it isn't any voice that can tackle this material. Fortunately, Gerald Finley possesses a baritone worthy of comparisons with Fischer-Dieskau. It may not sound like an insightful comment, but Finley's baritone is simply elegant. His phrasing and understated ornamentation bring a fully engaged understanding to the texts. What makes this disc even more interesting is that it contains Britten's settings spanning a lifetime – from the revised early compositions of a 14-year-old boy to late-in-life, mature compositions and finally some published posthumously. Whether you are familiar with Britten's songs, or Blake's poetry for that matter, you will appreciate the intelligent, focused reading of the material in the Finley-Drake collaboration. And you will love the sound that the two artists create – love it enough to come back to this record again and again.