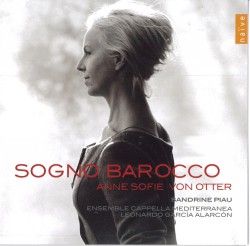 Sogno Barocco
Anne Sofie von Otter; Sandrine Piau; Ensemble Cappella Mediterranea; Leonardo Garcia Alarcon
Naïve V 5286
The mezzo-soprano Anne Sofie von Otter has never been known as an early music singer, in the limiting sense of that term, but she has sung in some very fine recordings of early music. The CD under review is a very welcome addition to her repertoire: it both begins and ends with Monteverdi; in between there is music by Cavalli, Rossi and Provenzale. The first Monteverdi item is the solo madrigal, Si dolce è 'l tormento, which has in the past been recorded by other fine singers, notably Janet Baker, Montserrat Figueras and Philippe Jaroussky, as well as by von Otter herself. There are two duets from L'incoranazione di Poppaea, in which von Otter sings Nero to Sandrine Piau's Poppaea, while the concluding piece is Penelope's great lament in Il ritorno di Ulisse in patria. Of especial interest too is Rossi's lament by the Queen of Sweden on hearing the news of the death of her husband Gustavus Adolphus on the battlefield. It is complemented by Provenzale's parody of that lament.
Von Otter is in great voice throughout the recording, which I recommend with enthusiasm. The three duets with Piau are especially fine. We shall be able to hear Piau in concert with Tafelmusik in the new year; von Otter last sang in Toronto in February 2011, but I remember her from a much earlier occasion, when she did a fabulous recital at the George Weston Recital Hall. When shall we hear her again?