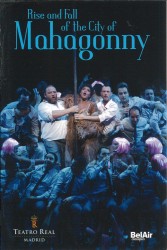 Weill - Rise and Fall of the City of Mahagonny
Measha Brueggergosman; Jane Henschel; Michael König; Willard White; Teatro Real Madrid; Pablo Heras-Casado
BelAir BAC067
Kurt Weill's music stands alone and needs no visuals to covey its brilliant, contemporary and relevant meaning. That said, his stage works always assault the senses when produced well – especially when accompanied by the words of his most famous collaborator, Bertold Brecht. Mahagonny, immortalized by the countless renditions of the "Alabama Song," is so much more than the simple morality play that many perceive it as. It is a work, which especially in this brilliant production satirizes, troubles and challenges the viewer. In these years of market crashes and the disenfranchised "99%" its resonance is as fresh as it must have been in the Weimar Republic. The stunning sets, including a verdant golf course – surely as much of a power centre as one can imagine – create the backdrop to the all too human struggle with that "crime of crimes" – not having money in the materialistic world. Jane Henschel as the widow Begbick and Canada's own Measha Brueggergosman as Jenny Smith form a powerful female axis of the performance, with Brueggergosman taking refreshing risks with the score. Michael König (Jim MacIntyre) and Willard White (Trinity Moses) in the meantime, complete the play's – and music's – symmetry. The orchestra delivers the score beautifully, with a strangely appropriate Spanish verve. This is truly an "edge of your seat" opera experience, even without the original German rhythms of speech. Bravo.