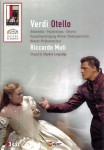 Verdi - Otello
Aleksandrs Antonenko; Marina Poplavskaya; Carlos Alvarez; Wiener Staatsopenchor and Philhamoniker; Riccardo Muti
Unitel Classics 701408

With the first ff shrieking chords of the orchestra Verdi forcefully draws us into the world of Shakespeare's horrifying tragedy, one of fullest embodiments of evil ever created. Each of the characters is widely different from one another: Otello the accomplished fearless hero, but insecure and gullible; Desdemona full of love, but naïve; and Jago congenitally and relentlessly evil. Their interaction is the stuff of drama and of one of the greatest in Verdi's oeuvre.

Salzburg hasn't seen a production of Otello since 1970 when Karajan conducted it in a noble, unforgettable performance with our Jon Vickers in the title role. Now it's Riccardo Muti's turn. Muti today has become a conductor of stature and a true master of Italian opera repertoire since his early years as a young firebrand when I saw him a few times here in Toronto. His usual forceful style helps 'shine a light on Otello's violence' and turns the orchestra into a snarling monster when required. His orchestra is well balanced throughout, swift moving yet he finds time to bring out much of the richness, hidden meaning and delicacy of the score.

The extraordinary width of the stage of Grosses Festpielhaus has always been difficult to handle for stage designers and directors. Director Stephen Langridge with George Souglides solved the problem by subdividing it into multiple elements: galleries, stairs, projection screen and a fragile transparent platform that shatters at the end of act 3, symbolizing Otello's descent into insane jealousy.

The cast is international, nearly all young, very talented singers with spectacular voices. Latvian Aleksandrs Antonenko is a powerful, clear heldentenor whose 'ringing' entry 'Esultate!' sets the tone for his performance. Russian soprano Marina Poplavskaya brings much richness to the part of Desdemona not just with her voice but her wonderful acting. Famous Spanish baritone Carlos Alvarez's turncoat portrayal of Jago, alternately evil and suave, is skilfully acted and brilliantly sung. His shattering 'Credo' is one of the best I ever heard. This is a performance worthy of Verdi and Shakespeare, highly recommended.