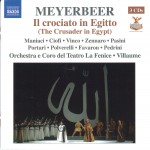 Meyerbeer - Il crociato in Egitto
Teatro La Fenice; Emmanuel Villaume
Naxos 8.660245-47
A great deal of what is known as "French Grand Opera" has Italian (Verdi's "Don Carlos") or German roots. Case in point for the latter – the output of Giacomo Meyerbeer (born Jakob Beer near Berlin). Known to today's opera goers from a handful of showcase arias ("Shadow Song" from Dinorah, "O Paradis" from L'Africaine), Meyerbeer was in mid-nineteenth century the king of the genre. A direct musical descendant of Rossini, an inspiration to Bellini and Verdi, Meyerbeer's operas were extraordinary triumphs.
Much of the credit for the present-day obscurity of his work goes to the relentless campaign waged against him by Wagner. Motivated in equal parts by professional jealousy and anti-Semitism, Wagner derided and undermined Meyerbeer at every turn. It is then great to see the Master's operas produced again. "The Crusader in Egypt" previous to its 2007 production at la Fenice was not staged for over 100 years. That alone would make this disc set worth owning, but then there are the performances. Even though Patricia Ciofi is a darling of the Venetian crowd, having heard her live in La Traviata, I have to admit I am not a fan. Her wobbly and frequently shrill soprano does warm up as the opera progresses, but the true revelation in this recording is Michael Maniaci. The role of Armano, once sung by the legendary Giuditta Pasta, offers him a great opportunity to showcase his unusual, beautiful voice. With a solid cast and great choral scenes, this disc set is highly recommended.