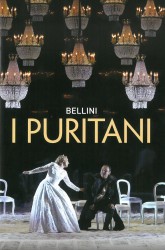 Bellini – I Puritani
Diana Damrau; Javier Camarena; Teatro Real de Madrid; Evelino Pidó
BelAir BAC142 (belairclassiques.com)
This was one of those rare events in the annals of opera when everything is just right, a spectacular success, with show-stopping moments like the final duet between the tenor and soprano. Even the conductor is applauding the singers from the pit while on the square outside a spontaneous crowd gathers watching it on a big screen, cheering wildly. Bellini's bel canto masterpiece, I Puritani, his take on the 17th-century civil war in England, hugely successful at its premiere in Paris in 1835, has remained one of the most demanding and difficult to perform. It demands four superstar quality singers (the so-called Puritani Quartet), very rarely available. Recently it was revived at the Met with Anna Netrebko, which I thought quite wonderful, but this one surpasses it. Two main reasons are the tenor and the soprano.
Phenomenal Mexican tenor Javier Camarena (Arturo) is unlike anything I've heard before, capable of producing shattering high Cs and even higher (Ds, F-sharps) with ease. At the same time his gorgeous tone, beautiful lyricism and total abandonment communicates the love he feels for Elvira. His A te, o cara made the audience go wild. More surprisingly, Diana Damrau, whom I always regarded as a soprano of great potential, now suddenly becomes a true diva, another Sutherland, in the role of Elvira with a breathtaking mad scene, a total immersion in the role and almost divine inspiration.
Primo baritone Ludovic Tézier (Sir Richard), one of today's most sought-after, is a very complex villain, an enemy who forgives his rival. His voice is rich and powerful yet he can be tender; a warrior very much in love. The famous duet in Act II with basso Nicolas Testé (Sir George), a longtime favourite of mine, is suitably rousing. Highly acclaimed Italian conductor Evelino Pidó, with tremendous sense of style and perfectly chosen but flexible tempi, alternately intensely dramatic or tenderly lyrical, has Bellini in his veins. Stage design by Emilio Sagi is deceptively simple, unobtrusive yet elegant, but can be awe-inspiring at crucial points of the opera.