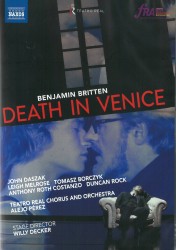 Britten – Death in Venice
Soloists; Teatro Real Chorus and Orchestra; Alejo Pérez
Naxos 2.110577 (naxos.com)
Adapted from Thomas Mann's 1912 novella, Death in Venice (1973) was 20th-century English composer, conductor and pianist Benjamin Britten's final opera. Its libretto has a stark, dark plotline: Gustav von Aschenbach, a famous but failing German novelist, travels to Venice for invigorating inspiration only to find disturbing mystery, a troubling infatuation with a boy called Tadzio, internal vacillation and melancholy, cholera – and as the title states, death.
The spare narrative, however, allows librettist Myfanwy Piper and composer Britten room to meditate on a rich tapestry of grand themes, primarily through the voice of Aschenbach. These include reflections on dichotomous Apollonian vs Dionysian philosophies rooted in Nietzsche's writing, Greek mythology and ideals, and the perilous dignity accorded even an acclaimed artist (as Britten was by this time in his career).
Propelling the drama however is the doomed homoerotic May-December longing at the core of the story. It's lent poignant authenticity by Mann and Britten's own biographies, underscored by Britten's dedication of the score to Peter Pears, his longtime professional and life partner, who premiered the role of Aschenbach.
Musically, Britten's score is a study in brilliant orchestration of refreshing invention, vigour and chamber music delicacy. Characters are deftly rendered in contrasting musical styles and genres. Italian opera buffa is parodied and Aschenbach's vocals are supported by orchestral strings and winds. By way of contrast a five-piece percussion section provides a very adroit evocation of the timbre and texture of Balinese gamelan music – representing the "other" – underpinning all of the boy Tadzio's stage appearances.
John Daszak is exemplary as Aschenbach, and Willy Decker's 2014 Teatro Real, Madrid production brilliantly supports the cumulative impact of the final tragic scene of Britten's last, emotionally resonant, opera.