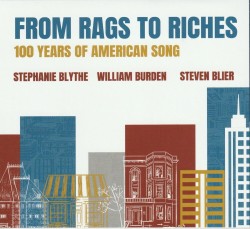 From Rags to Riches – 100 Years of American Song
Stephanie Blythe; William Burden; Steven Blier
NYFOS Records n/a (nyfos.org)
This debut album from the New York Festival of Song's new in-house label NYFOS Records features mezzo-soprano Stephanie Blythe and tenor William Burden accompanied on piano by NYFOS artistic director/co-founder Steven Blier, who also arranged some of the songs. It is taken from a March 2000 live concert recording at Kaye Playhouse at Hunter College in New York celebrating 20th-century American songs including art song, musical theatre, jazz and opera.
The opening track has happy, energetic Blythe solo vocals in a dance-along rendition of Joplin's Pineapple Rag, arranged by Blier. Blier's arrangement of Cook's vaudeville My Lady Frog is amazing, with opening piano leaping frog line, Burden's musical singing to higher tenor closing pitches and closing ragtime piano riff. Bernstein's Broadway song Wrong Note Rag provides a fun change of pace with piano "wrong note chords" hilarious under the vocalists. Nice to hear a more classical piece in the mix here with Samuel Barber's Nocturne for tenor and piano. Other songs include works by Gershwin, Monk, Weill, Rodgers, Sondheim and Bolcom
The 17 songs comprise a comprehensive, stylistically wide-ranging overview of American songs composed in the last century. Blythe and Burden both sing with clear pitch, articulation and musicality in all the diverse styles. Blier's rock-solid technique, musicality, accompanying and humour is amazing. His arrangements are musically inspiring. This is a superb release from a live production that includes occasional audience applause. Bravo!