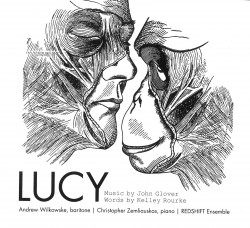 John Glover – Lucy
Andrew Wilkowske; Christopher Zemliauskas; REDSHIFT Ensemble
New Focus Recordings FCR 183 (newfocusrecordings.com)
In 1964, Maurice and Jane Temerlin "adopted" the just-born Lucy as part of a series of cross-fostering experiments in which chimpanzees were raised as if they were human, with mostly tragic outcomes for the chimps. Lucy lived with them until 1977, when they could no longer deal with her. She was finally set free in The Gambia, where her mutilated body was found in 1987.
Kelley Rourke's libretto (included in the booklet) imagines Maurice Temerlin learning of Lucy's death and recalling episodes from their years together, drawn from his memoir, Lucy: Growing Up Human. John Glover's hour-long opera (2014) features baritone Andrew Wilkowske (Temerlin), speaker Sarah Sokolovic (Researcher), pianist Christopher Zemliauskas and the four-member REDSHIFT Ensemble, with Glover conducting.
The hearty-voiced Wilkowske sings with energy and expression, but his music is less engrossing than his words, recounting many humorous, sometimes frightening, scenes of his "daughter" Lucy running around with unrolled toilet paper, getting drunk, carrying a kitten on her back, learning American Sign Language, dialling a telephone, attacking and biting a visitor. Most of Lucy's musical pleasures are provided by the varied colours and bubbling rhythms of the instrumental accompaniment.
Bonus tracks include comments by Glover, Rourke, Wilkowske, stage director Erik Pearson and, most eloquently, Robert Ingersoll, who worked on the cross-fostering project but now advocates for chimps to be treated as chimps. "We stole their lives from them," he laments. Lucy helps explain Ingersoll's anguish.