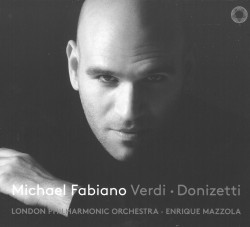 Verdi – Donizetti
Michael Fabiano; London Philharmonic Orchestra; Enrique Mazzola
Pentatone PTC 5186 750 (pentatonemusic.com)
Opera excerpt recordings are a dime a dozen, but this new issue intrigued me. Michael Fabiano, a young American tenor of considerable repute for his starring roles in Italian and French repertoire at the most famous opera houses around the world, comes out with his debut recording on the prestigious Pentatone label with a remarkable collection of difficult bel canto arias by Verdi and Donizetti. Why these two? In his scholarly introduction Fabiano maintains that there is a relationship between the two composers, particularly in their middle periods. There is a departure from the relatively simple Bellini cantilena towards a "symbiosis of sonority," deepening emotions, more intense drama, more complex instrumentation and the orchestra generally becoming more important.
This thesis definitely bears out, with many examples from Verdi's Luisa Miller, Un ballo in Maschera and La Forza del Destino vs. Donizetti's Poliuto, Lucia di Lammermoor and Maria di Rohan. These operas and more are beautifully represented here by the tenor and sung with a voice of passion, power and fire with no lack of spectacular sustained high notes, but also with tenderness and lyricism where it's called for.
A good example is Forse la soglia attinse from Verdi's Un Ballo, a beautiful aria where Count Riccardo, in love with his best friend's wife, has to give her up, but wants to see her "ultima volta," for the last time, an aria of infinite anguish followed by the intense excitement of anticipation even though he knows he will be assassinated during the ball. But, for my money, Fabiano is strongest in the rousing cabalettas like the one in Verdi's Il Corsaro with the wonderful support of the chorus, not to mention the London Philharmonic conducted with fire and passion by Enrique Mazzola.