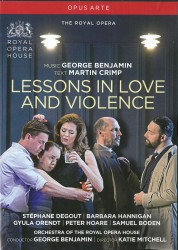 George Benjamin – Lessons in Love and Violence
Stéphane Degout; Barbara Hannigan; Gyula Orendt; Peter Hoare; Samuel Boden; Orchestra of the Royal Opera House; George Benjamin
Opus Arte OA 1221 D (naxosdirect.com)
It's been four years since the Toronto Symphony gave an unforgettable concert performance of British composer George Benjamin's opera Written on Skin. It featured the dynamic Canadian soprano Barbara Hannigan, who subsequently premiered Benjamin's gripping new opera, Lessons in Love and Violence in this production from the Royal Opera House two years ago.
Playwright Martin Crimp uses Christopher Marlowe's Elizabethan play Edward II, along with historic records, to recount the messy downfall of the 14th-century British King, who ruled neither wisely nor well. Director Katie Mitchell pulls off some innovative moves to shape an exciting drama from Benjamin's gorgeous, evocative music, Crimp's poetic text and Vicki Mortimer's stylish modern sets and costumes. The resourceful but unobtrusive camerawork from video director Margaret Williams ensures a sense of immediacy, especially in the use of imaginative overhead shots, soft focus, and close-ups.
As riveting an actor as singer, Hannigan provides the opera's most chilling moments as Isabel, the alluring, raging Queen. There are vivid performances from Peter Hoare as Mortimer, Isabel's lover and the King's nemesis, Samuel Boden as the son, Ocean Barrington-Cook as the daughter (extraordinary in a non-singing role), and Canadian mezzo Krisztina Szabó, who also sang in that TSO performance, as a courtier. But the most moving passages belong to the two splendid baritones, Stéphane Degout as the King and Gyula Orendt as his lover Gaveston, especially in their impassioned duets.
This is a timely work – and all the more eloquently rich for that. While it's the King's blind infatuation that brings him down, the problem isn't that he is gay. It isn't even that he is having an affair. The problem is that he has abused his power by neglecting his family and his people, lavishing all his attention and resources on Gaveston. Yet it's only after the King rejects Isabel that she turns on him. By the time their children, who have been forced to witness the violent power plays that ensue, manage to seize the power for themselves, they are able to show that they have learned their lessons only too well.